Effective uses of environmental print in your Newcomer, ESL or Reading classroom?  Here are some ideas that worked well for us this year.  The 3 minute video at the bottom of this post shows many of these ideas in action.
I am writing this post because I have realized that alone I can't teach my students all the English they need.  But I've also realized that my walls are an excellent co-teacher!  Read on to see what I mean.
Key to all of this is that you create these with your EL (English Learner) students.  Update them as needed with your class based on who they are and what their interests are.  Then use and reuse them with your students all year long.
Some ideas for WHAT to post:
Social Contract
A social contract is created at the beginning of the year to set classroom rules/norms.  A social contract is KEY but it is not created by me. The rules are discussed and agreed upon by the students once I have explained that I can help them learn English VERY quickly with the right classroom norms.  Everyone needs to feel good, honored and safe.  Students discuss how they want to be treated (by me and each other) and how they think I want to be treated.  Native language is fine during the creation of the contract but I write it in English using comprehensible input, students sign it, and it is updated and referenced all year long. It is one of the first pieces of text everyone is able to read.  Flippen Group offers great training on Social Contracts.
Banish I Don't Know Poster
This anchor chart is the 2nd piece of text we create together. It is critical for newcomers to have a way to respond when they don't know the answer or need assistance.  (This is actually a great thing to implement in any classroom, for every type of student.)  For non-English speakers, we begin with three responses that students learn quickly.  If called upon, no one is allowed to answer with "I don't know" or shrugging of shoulders.  They can use the anchor chart for responses like "Could you please repeat the question?" or "May I ask a friend for help?"
We add to the chart and reference it all year long.  As new students come in, we highlight the top three so they can begin participating the moment they are ready.  This anchor chart is chorally read a great deal in the first days of school and we review/use it all year long. This, by the way, is Step 1 of Seidlitz Education's very popular: 7 Steps to a Language Rich Interactive Classroom.  I highly recommend the book & training for any classroom, not just ESL.  It changed my life.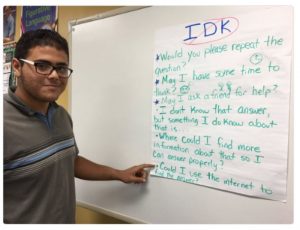 Shared Writing & Reading
There are many ways to do this.  Here is how I do this in a short, whole group manner: Class discussion of a shared event, then allowing the students to brainstorm ideas to be included in a quick write (as I scribe a bulleted list).  Then I model the quick write which we read together as I make it.  Finally, students copy this piece of text. Everyone is able to read it because they co-created it.   This has been very effective to accelerate writing and reading for new ELs. Marcia Taylor of the Center for Adult English Language Acquisition has written a great piece on Language Experience Approach here. This is the technique I am adapting for my class.
Some ideas for HOW to use what you post:
It's worth noting that I don't have my own classroom.  I am one of those teachers that travels with her supplies and teaches in other peoples' rooms during their conference periods.  You might think anchor charts and environmental print would need to fall by the wayside if you don't have your own walls.  Nope.  I quickly realized that I needed to find a way to respect the wall space of the host teacher (constant struggle, working on it) but also have environmental print accessible to students.  Some anchor charts stay up but some come up and down all year long. (I put a few hooks in the rooms and I use clothes hangers with clips. Post-it chart paper is pricey but worth it if you can get it.)  Here are a few ideas of how to use these:
Create Them WITH the Students
So yes, I create a different "I Don't Know" poster with/for each class.  I create a new poster for each class of anything we are doing because the experience of creating the chart is what makes it comprehensible for my newcomers.  It also gives them voice and ownership.
Chorally Read Them, Students Read & Re-Read them for decoding
Emergent readers need multiple exposures to English print. The act of decoding text and recognizing sight-words can be learned in context with your co-created text.  We should explicitly teach the importance of multiple exposures, phonemic awareness, and sight-word recognition.  No need to go deep into that, just be sure the learner knows WHY he is re-reading.
Re-Read them for Higher Order Thinking Tasks
The University of Texas has a great post about benefits of re-reading familiar text.  They include it as a powerful method for foreign language teachers but some of those same principles apply to re-reading our own co-created text in the ESL classroom.  I will often revisit a quick-write and work with the class to analyze what we have written and how we can improve it.  Other activities can include comparing/contrasting posters from different classes on same subject.  Also comparing our English version to their native language version is worthwhile.  There are many ways to revisit text.  Several are in that UT link above.
Partner Read/Read the Room
Just getting up and walking around the room to read familiar text aloud (when they feel comfortable) is a good activity for emergent readers.  I always do this as a structured activity with sentence/response frames for the students to use.  ("I agree with this because…" or "I am not sure what this part means but I think…")  My goal here is to have them practicing their reading but also using their new language to speak authentically about the text and the experiences.
As long as my students understand the brain-friendliness of re-reading familiar text and interacting with it in authentic ways, I have had no problem getting secondary students to do any of this.

Extension for at Home Reading
Students can take home their copied version for more reading.  I also take pictures of these and turn them into .pdf files so I can print them as handouts.  For some reason, my bad handwriting is more interesting to them than typed print when we are reviewing our shared writing.  Some students are able to copy the anchor charts quickly but other new ELs (English Learners) benefit from a printed copy for at-home reading.
For more on how to work with under-schooled newcomers, see our new book, Boosting Achievement; Reaching Students with Interrupted or Minimal Education.  Anna Matis and I wrote this book based on the work I have done with middle and high schoolers who are SIFE. If you are on Twitter, join us for a global book study that will begin July 9th!  Just follow the #Ellchat_BkClub hashtag to get the questions so you can join the slow-chat conversation.
Thanks for reading this.  Please stay awesome.
Carol
carolsalva1@gmail.com