Do you want to avoid pitfalls that fail our English learners? Tan Huynh is here to help!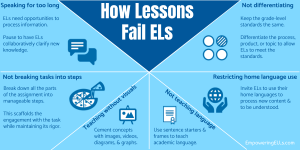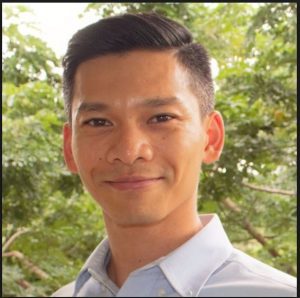 Tan Huynh joins me to explain this popular infographic about teaching practices, expectations and equity in learning. In the podcast we share thoughts on each of these actions.  You can listen to the show right here.

Tan gives credit Todd Finley's tweet for inspiring this infographic. Here is that tweet https://twitter.com/finleyt/status/956393795553320962
The show is available on Youtube and the link is at the bottom of this blog post. The following are a few quotes and thoughts from the conversation.
1. Speaking For Too Long: 
"The more we talk, the less they learn." Tan explains that what he means is that students need to speak to process what is being said.  Best practice would be for the teacher to take breaks in their direct instruction so students can speak and process what they are hearing.
2. Not Breaking Task into Steps: 
Breaking tasks down is what is meant by explicitly teaching something.  Students need us to make the directions comprehensible and manageable. "You wouldn't shove an entire pizza in your mouth, would you?  No.  We normally break it down into manageable pieces."  That analogy holds true for how we offer tasks to students.   We can offer students this structure and still allow them to hit grade level standards.  If we don't show English learners the structure or the steps, our tasks can become overwhelming.
3. Teaching Without Visuals: 
"When we speak, words come spewing out and they flood the room.  But  images are anchored and stay in one place."  Tan and I talk about the cognitive difficulty of processing what we hear compared to processing a visual.  We also reflect on one of my newcomers, Uri Hernandez.  In this 4 minute video, Uri tells us that visuals and gestures are the most helpful thing a teacher can do in content classes to help students who are learning English.
4. Not Teaching Language:
Tan describes this as making language explicit.  The different disciplines have different language structures. Sentence frames allow us to help English learners speak like scientists, mathematicians, historians, etc.  We need to offer them the language they need to accomplish the learning tasks.    Example: "My hypothesis of __________________ suggests that ____________________________."
5. Restricting Home Language Use: 
Tan tells us that if we don't allow home language, we are only welcoming half the child.  We talk about the English learner needing to use their native language  to negotiate meaning.  We also mention that our language objective should help us move the language acquisition of our students and so we should  be comfortable allowing some native language use.
6. Not Differentiating:
The standard can be met and mastered even if the work product is different.  This is another example of equity.  By allowing students to show mastery in different ways, we are providing access to the curriculum for all language levels.  We can differentiate other things as well such as time allowed or length of assignment.
Here is the Google Hangout of this show if you want to watch the unedited version:
Thank you for visiting this blog and for your interest in this podcast with Tan.  Remember to check out his website at www.empoweringells.com so you can find more Bathroom Briefs as well as great blog posts.  In fact, Katie Gardner just wrote a guest blog on using technology in elementary and  Jess Bell wrote a guest post on Talking Points, a technology that allows you to write your parents in their own language.  Both of these educators are from our online PLN. We hope you will join us on Twitter.  We are learning so much from one another!
***  GET YOUR PROPOSAL in for #MADPD  Check out this request for presenters and know that your proposal WILL get accepted.  We should all be presenting at this "Make A Difference PD" online conference in May.  The proposal window is closing soon!
Big Thanks to Tan Huynh for all he does for ELs and the teachers who teach them!
Virtual High Five!
Carol
PS: Would you like more support?  I'd love to come work with you and your staff! Simply reach out to me or Kathy Belanger:  kathy@johnseidlitz.com
In the near future I will be presenting at the NABE conference,
as well as the ISTE conference
and I'm a proud spotlight speaker at the Abydos writing conference. 
I'm attending SXSW as well so please reach out if you'll be at any of these!
You can also join me for two upcoming workshops in Texas.  The information for those is below.  We'd love to see you!