Writing!  ELs need to learn to write but they also need to write to learn. And every one of them can do that. Listen to the show here or read my thoughts on this below: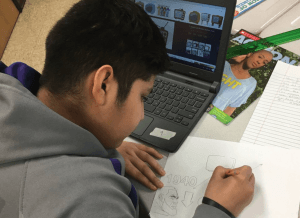 This podcast episode and blog post are all about writing with English learners.  My focus for reflection is about how any English learner (pre-literate or nearly fluent) can write… and also how all of them can use writing to propel their learning. This picture is a student in Emily Francis' class in Concord, NC.  Emily is an EL teacher hero who began her career in Elementary and this year is teaching high school.  (You'll want to check out her blog and her story!)
I have this picture because Emily and other Twitter PLN members contributed ideas about writing with SLIFE in our weekly twitter chat (thanks everyone!) Many of those posts are included in the Twitter Moment at the end of this blogpost.
In the show I mention Abydos International, formerly the NJ Writing Project.  So there is the link to their services. I'm not doing the trainings anymore but I keep my certification current.  You can't get better training for your writing teachers than Abydos.
Content Area Writing
Content teachers, this first part is for you.  In this episode, I use Math as an example.  I get questions all the time from content teachers who are concerned for their English learners.  This is understandable because most assessments after a certain age are READING assessments.  What I mean is that the test needs to be read and comprehended for the student to be able to be successful.
I offer to you that, in my opinion, the math content teacher's main goal is to teach MATH.
Don't misunderstand me.  I realize that all teachers are language teachers.  We have to be.  But there is a slight difference in our main goal.  Too often I see our English learners gain enough language to navigate and assessment but they are lacking in the content mastery because they were not taught at grade level.
I fully realize that it is difficult to teach grade-level standards to a student who does not comprehend the language of instruction. However, it is totally possible.  As educators, we just deserve more examples of what it could look like for our grade level and content.   I have many examples elsewhere on this website and if you have a specific learning standard in mind, reach out!  If I don't have an example, I know my PLN will.
 What can writing look like in the content class?
So writing in Math can look like a journal where students reflect on their learning.  That can be with frames such as "I noticed…"  and "I solved that by…" I had the pleasure of being a parent to a child who was in a language rich math classroom.  Anthony's homework always included a reflection piece.  There were less calculations and more writing about math and thinking about how things can be solved.  The EL scores took a huge jump in that class because the teacher, Joseph Maurer, understood how to use language to teach math.  This is a video that includes reflections from a new math teacher and also some reflections from the students in Mr. Maurer's math class.  They are talking about how much conversation there is in their math classrooms and why it is important to their learning. You can see how an English learner would be gaining more and more language and literacy (and knowledge of math) in these classes.  And how they should be able to write some reflections. The two big ideas for this PD video are reviewing your objectives with the class (with attention to the STUDENTS using the vocabulary) and a Social Contract so that students feel safe collaborating in class.  For more on these ideas, check out this blogpost.
The students in that video are explaining why it is important for them to produce the language of math with each other and on their own.  As I said, I have been in this classroom and there is a great deal of writing.  They are writing to learn.  Writing personalizes our learning.  Each student will come into the writing wherever they are.  
On the show, I promised to include examples in these notes and it so happens that
Kirsten Foti
just reached out and reminded me of how powerful Roving Paragraph Frames can be for ELs. She is even finding success using it with some of her students who have learning differences. I learned this technique from John Seidlitz and included it on p. 67 & 68 of Boosting Achievement.  If you don't have the book,
check out this post by Kirsten Foti
that explains it all and includes writing samples from her ELs.
In the English Language Development (ELD) Classroom
As the ELD teacher, my goal is to have students so interested that they forget that they are learning a language.  We Skype with archeologists, we Skype with other classrooms, we connect with people in our community and other authentic opportunities.  The students do a lot of speaking before I ask them to write.  We use sentence frames for speaking and for writing and we often use paragraph frames.  This video shows how we wrote scholarship essays with SLIFE students that all turned out to be over 400 words.  Each became personalized essays because the kids cared a great deal about the topic.
When we think about the writing process, we should consider that every child can participate in all stages.  if you are not sure how to include them, look at this Booksnap of pages 86 &87 of Boosting Achievement.  (quick thanks to Tara Martin for the idea of Booksnaps!) The table in this photo offers a way for pre-literate students to engage in every stage of the writing process.
Sometimes teachers ask me how we can make students write in English.  Well, the kids have taught me that we are taking the wrong approach when trying to make or force them to do anything.  Another goal I have is to always look for opportunities where they REALLY care about their writing.  One way to do that is to give kids choice and voice in what they write.
THE BEST resource I have found for this is
Noa Daniel. 
She is a teacher, a consultant, and a podcaster out of Toronto.  Her
"Building Outside the Blocks
" approach to project-based learning has changed everything for me!  We now build outside the blocks of time and students are empowered by selecting when they will present their work to the class.  They care a lot about what they write because Noa's projects honor students in many different ways.  Here are a couple of examples.  In this one, Personal Playlist, my students had to come up with songs that tell about them.  One is a song that makes them nostalgic, another is an identity song and the last is a motivator.  Watch this short video to see Natalia's project. She was new to the English language this year:
Here are the planning pages for this project, with credit and thanks to
Noa Daniel. 
I have only adapted them slightly for language learners.
I have three other projects for your students to consider.  ** Notice that I said for your students to consider.**   KEY to all of this is choice.  I would never force a child to tell about anything they did not want to tell or write about.  I always have a "free choice" option if a student wants to write and present about something entirely different.  We just need to support them with some frames and set expectations for the final product. Here are planning pages for a few other projects including the scholarship essay:
Thanks for taking the time to reflect on all of this with me. I hope it is useful in helping you include SIFE and all ELs in the act of writing.
Many hugs,
Carol
PS: Please check out all the places I will be presenting! 
 I hope to see you at one of them.  Also, remember that I am traveling across the US and Canada to bring Boosting Achievement and Rapid Literacy training to you and your colleagues.  Reach out if we can help!
As promised, here is the Twitter Moment with even more ideas from our PLN
As teachers of English language or teachers of content, we should have a goal of engaging students in the writing process.  Many educators out there agree with me.  Check out this Twitter Moment from our last #BoostingAchievement Twitter chat.  And join us every Thursday at 7pm CT for a quick 30 min #BoostingAchievement chat about raising the bar and supporting all ELs.