Downloads of paragraph frames, planning pages, links, and all the resources for my NCTE18 session are here for you!
This year's theme is Raising Student Voice.  Yes! I'm all over that!
When I taught middle school we discovered the power of using students' authentic curiosity and questions to propel language and literacy.  We often Skyped with archeologists to ask questions about the heritage and history of the world around us.  We also created videos with questions for students from surrounding schools who were learning about history.
They gladly created answer videos for us. This can now be done more easily with Flipgrid and other free technology.  For my students who were gaining literacy and language, their authentic interest in the subject matter enhanced their engagement.  Watch this 3 minute video where Emmanuel gains speaking and reading practice in preparation for a class visitor:
I was recently teaching high school and for the past two years, I had invited our newcomer students to share their migration stories.  We first begin by sharing migration stories of people like Emily Francis who have overcome challenges to find success in this country. Her story is inspiring and compelling for immigrant students who may not realize what is possible with persistence and a growth mindset.
We begin the year working with sentence frames that scaffold up to paragraph frames. This google folder has several documents that will lead students through steps to writing about the similarities and differences in their country and the USA.
We then offer students the option to present on this topic or another topic of their choosing.  Many chose to share their migration stories. The planning pages for those projects are below.
These presentations are shared with classmates but in 2017, one of our World History teachers had the idea of bringing his class to hear the stories.  They also brought food and we allowed time for socializing.  After the presentations, there was time for Q&A. Some of the native-born students were visibly moved. Their comments and questions revealed the deep impact these stories had on the native-born students.
Newcomer Ss 2 share migration stories! 37 World History Ss are coming 2 visit & theyre bringing food! #SIFE #ellchat #SelfieKahoot #NELD pic.twitter.com/iX2iDBnuvo

— Carol Salva (@MsSalvac) March 30, 2017

Many of our students are compelled to explain the hardships they have endured to find a safe place to live and the luxury of a free education. It is a time to build empathy but also appreciation and respect among students who may never meet otherwise.
Other choice projects include "What's in a Name" and the "Personal Playlist."  Both of these projects were adapted from Noa Daniel's Building Outside the Blocks approach to project-based learning that offer voice and choice for students.  These documents are the paragraph frames and planning pages we use to support our English learners in planning what they'd like to share.
Our migration stories are also being shared with a classroom in Laos so as to add to global funds of knowledge. 
 We are grateful to Olwen, an educator in Laos, who invited us to share out thoughts in a collaborative google slides presentation about migration.  My students were eager to share.
I will also share how my students create Kahoots (online multiple choice games) about their cultural holiday traditions. PLAY OUR KAHOOT
These quizzes are shared with other classrooms via Twitter and Facebook. This is a picture of Katie DiGregorio's class in Long Island playing our Kahoot. 
We connected with her class and Emily Francis' class after these Kahoots.  Katie's class of newcomers made a Kahoot about Long Island for us and we were compelled to write Emily's class after they sent us questions.
Finally, we will explain the power of Mystery Skype. We can instantly create dialog and promote higher-order thinking with a Mystery Skype. 
Through Skype, we connect to another classroom somewhere in the world and play "20 Questions" to determine their location.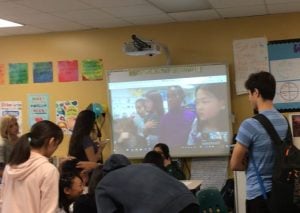 Those questions are from Scholastic and they have a great step-by-step post here if you want to know more about Mystery Skype.  But honestly, you can just go out on Twitter and type in #MysterySkype to find another class that would like to play.  It's VERY student centered!  In fact, all of these activities are student-centered, honor our students and are the catalyst for discussion, further research, and reflective writing.
I will also show some writing samples of a first year newcomer here:
And also of a 3rd year student who is new to literacy in any language.  This video is the spirit of the mindset we are trying to get our students to own.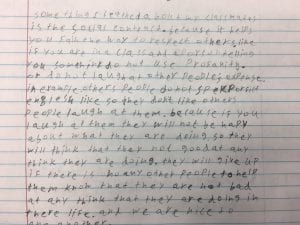 I hope you've found this helpful!
Reach out and let me know how you use them or if you'd like any help.  Coming to work with districts is my passion!
Best,
Carol Salva