Do you know about these three posts?  Hundreds of teachers are using the content and links in these posts so I thought you might want to know about them if you don't already.
This post with all the resources from my WIDA 2o18 session is likely popular because it has an embedded video of my Hacking Literacy breakout session and most of the tips I shared.
That post makes it super simple to turn around a PD just like the one I did at WIDA.  You have visuals and explanations for Reviewing Objectives, QSSSA, The IDK Poster, Differentiation and a lot more.  I presented the session from that exact blog post and you can too.  Or you can just review the post & or watch the video to get what the participants got who attended.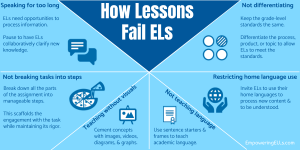 In this post, Tan Huynh helps me review a great infographic he created to remind us of what things we might be doing that would fail our English learners.  I find the 6 reminders so powerful and Tan explaining the thinking behind each of them is a great listen to help us all reflect. This post offers the uncut video I did with Tan and also the podcast version of that conversation.
I'm grateful that Tan puts out so much great content and I strongly suggest you follow him on Twitter and on subscribe to his blog if you don't already.

Be sure to bookmark this one for the beginning of the school year! Sarah Williams reached out about how to set up her classroom and had a great conversation to go along with my top tips for this. I've had SO MANY teachers reach out about this post and episode.  The post has a 30 min video embedded that had over a thousand views in just a few weeks.  I believe this is because the advice on setting up your classroom for the first day of school is practical and so many teachers want to get off on the right foot but are not sure where to start with language learners. Others tell me that there are some great reminders there on what is fundamental to a safe, productive space. Thanks to Sarah for helping me recap it all.
The Videos Page and the Podcast Page were viewed more than anything so you may want to check those out as well.
Thanks for dropping by this blog.  I hope you are able to find content that is useful to you.
Please reach out. I'd love to hear from you!
Big Hugs!
Carol
PS: Thank you to everyone contacting me about doing professional development in your district!  If anyone wants more information about that, you can email me at carol.salva@johnseidlitz.com or reach out to me on Twitter.  I'm at @MsSalvaC
PSS: Did you know I have a facebook page?  facebook.com/SalvaBlog
Can you join us at one of these upcoming Rapid Literacy conferences?
Waxahachie / North Texas – Rapid Literacy Saturday, December 1, 2o18
Des Moines, Iowa Rapid Literacy Wednesday, January 16, 2019