Even the best lesson ideas can fall flat if we are struggling to get the classroom to follow our directions.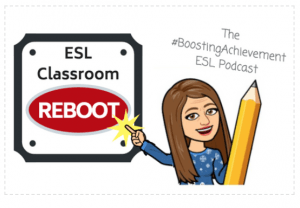 Things can also get off track when students don't feel challenged or honored for their ideas.  My goal is to engage all of my ELs and work with grade level content while students gain literacy and language.   Does this sound unattainable in the ESL classroom?  It's totally attainable!  But you might need to restart things to make it happen.  You can listen to this podcast here, on iHeartRadio, or in your favorite podcast app:
Listen to "BAP 042 Tips for a Fresh Start" on Spreaker.
If you feel like you are ready to just start over now is a great time.  A holiday break, a long weekend, or even a regular weekend is a great time to reset expectations with your students and try out new activities  I thought you might like to see my top tips for getting a class back on track so here they are:
BONUS:
Use Kahoot!   A lot!  Don't just review with this awesome platform. You can do so much more! Here is a page with many ways to use the platform.  ESL teachers can use some of the Kahoot Studio quizzes to pre-teach vocabulary for content teachers.  You can let your students create Kahoot quizzes and more.  Did you know that there is now a single-player app? 
Any of your Kahoot quizzes can be played by a student 3 questions at a time so they can review concepts on their own. If you're the newcomer teacher, you'll love this video on Kahoot for Non-English Speakers:
You can even review those classroom norms by creating a Kahoot out of them!
Reinforce the Social Contract + speaking/reading/listening practice @GetKahoot. So many benefits 2 doing this! #ellchat #BoostingAchievement pic.twitter.com/DNNDssld11

— Carol Salva (@MsSalvac) September 15, 2017
Twitter Chat on Classroom Reboot
ALL of our twitter moments from our Boosting Achievement chats can be found here.
The Boosting Achievement Classroom Management Reboot chat is below.  We had a great chat on Dec 27, 2018 and so many of our PLN member contributed insight to questions about how to reboot a class when behavior has gotten a bit out of control.  Here are the tweets that were captured. THANK YOU to everyone who joins us for these great chats.
THANK YOU for checking out this blog and/or podcast episode.   If you're reading a blog like this, you must want ELs to be successful and to feel valued.  I appreciate that so much!
I recently heard Emily Francis say that If your students FEEL valued and important they WILL  be successful.  I agree 100%.  Their timeline may be different as they grow in bilingualism or gain literacy.  But eventually, anyone can do that if they don't give up and if they believe it's possible.  Thank you for your part in their journey.
HUGS!
Carol