Hello EduHero!
Today I am addressing educators at the Texas Association for Bilingual Education conference in the closing session.
I'm often asked to deliver a message that supports educators to stay in, or adopt, the mindset that helps us serve Newcomers or SLIFE.  If you scroll through the podcast episodes or the All Things Kahoot page, you'll see that I approach this work with an attitude of joy and gratitude.  As teachers of Language Learners, we are some of the luckiest educators in the field.   Here are some of the resources I use to illustrate what is possible when we send a message of "All are Welcome" and focus on the gifts every child brings to our community.
Special thanks to Lynmara Colon of Prince William County Schools in Virginia & Natalie Wales in London, Ontario.  Today I used examples of how they welcome newcomers.
We began with these real statistics:
While these numbers are true, we have to look at what is possible for the children we teach, regardless of where they are coming from.   It starts with feeling welcome.  This book by Alexandra Penfold and Suzanne Kaufman was shared with me by Lynmara in PWCS this year.  We used the video of the read aloud as part of my session to kick off their school year. The "All are Welcome" message has been having a big effect!  Yes, they are experiencing unprecedented numbers of new arrival students, but teachers are focusing on how those kids feel, first.  We are layering in as many sheltered strategies and we can.  But feeling welcome is what so many teachers say is making the difference for their students.
As we work with ELs to gain literacy and language, we want to make sure they know how they can accelerate this process. We use a lot of co-created text and reading aloud and reminders of how they get sight words.  This post is a deeper dive into classroom routines and choral reading. 
Here is a recent post that takes a deeper dive into Balanced Literacy (what it is and how we can hack it). Once we have these two focus areas, we can work with grade level content and co-created text on any subject.
Don't have many EL/SLIFE success stories?  Here you go!  We use examples like Francisco Jimenez and Emily Francis.  Their stories and more stories of success are on this padlet. We can hit many grade level standards as we read and write about these people. And one of my biggest goals is to help develop their MINDSET.  So these texts, or excerpts from them, are perfect!
I will also challenge participants to find the success stories that are in our own community.  Below is a picture of our One World Club.  We discussed how the students themselves are an amazing resource for each other.  Neighborhood students and immigrant students can work together to deepen the learning of everyone in the club.  Check out this video to learn how to start your own One World Club.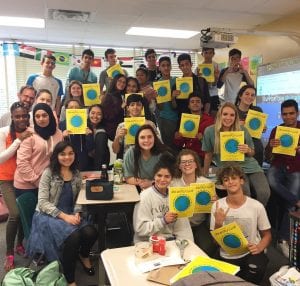 Not only do our SLIFE students need to feel welcomed, they also need to be honored for the perspective they bring.
How curious is today's youth?
As a group, we watch this video and come up with questions we have.  It's a challenging task for some as we are trained not to question or wonder anything anymore.  We can just ask Siri or Alexa!  But this is a great opportunity to illustrate that anyone can contribute to the wondering, and at the same time, I want them all talking about people who are overcoming challenges.  We want these kids more curious than we found them!  Natalee in Thames Valley uses it to foster curiosity with their SLIFE.
My hope for all of us is that we continue to challenge our beliefs.  We know that lack of a target language, and even lack of literacy, are not cognitive issues.  When we are working with students who are new to our country or new to formal education, we must remind ourselves of this.
Students with Limited or Interrupted Education are dealing with issues of OPPORTUNITY.
Let's keep that in mind and continue to offer ALL of our students opportunities to wonder, create, question and contribute.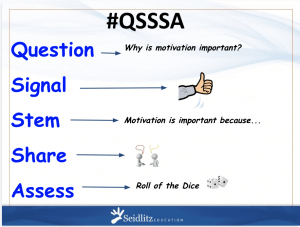 As usual, I went over #QSSSA as a strategy that levels the playing field.
I also offered W.I.T. Questions to help up rigor when questioning students.
A practical technique I shared was annotating your objectives.  I learned this from Dr. Escalante's new book: Motivating ELLs  
Here is a great post with Molly Lange from Kentucky.  She was in one of my trainings and began annotating her objectives the next day. She says the kids love it and they are learning a ton:
Recorded myself annotating learning targets with my 8th grade class for a PD on learning targets & teacher clarity. Watching yourself teach can be 🙈but I'm loving this strategy to increase EL's vocabulary & teacher clarity! #jcpsesl @NewcomerAcademy @michelleshory @MsSalvac pic.twitter.com/yHblRatyoN

— Ms. Lange (@ml_teachesl) October 16, 2019

I hope these links offer you some inspiration and ideas for how to serve students with limited education.  We have SLIFE students, who have gone through some very difficult things, graduating this year.  We can all take a lesson from their attitude.  One recently told educators in Houston, "We are not looking backwards, we are looking toward our future.  We can learn anything you teach us."
BIG HUGE THANKS for everything you are doing to support ALL students.  Some of those kiddos are really wanting you to give up on them.  DON'T!  We don't give up on kids and that is what makes you the amazing educator that you are.  That child might just need you in their memory some day.
HUGS,
Carol
PS:Will you be in one of these cities?
Kansas City, Kansas on Nov 4th:
Full day of Boosting Achievement in Orlando, FL on Nov 6th:
Featured speaker at ColoradoTESOL Nov 8 & 9th
Nov 19 in Edmonton Canada for 7 Steps Training
Nov 22nd keynote at the Long Island Teachers' Institute!
Full day of Using Technology with ELLs in St. Louis, MO Dec 2nd:
Dec 5th, full day of Boosting Achievement in Springfield, MO
Hope to see you soon!