Don't miss your chance to attend the kind of conference we ALL need right now.  NO REGISTRATION.  NO FEES!
Listen to "BAP078 VirtuEL 2020" on Spreaker.
Larry Ferlazzo is our keynote for the 4th annual #VirtuEL conference.  His topic and description speak directly to what we are all facing.
VirtuEL Keynote by Larry Ferlazzo.  10:00am ET, July 25, 2020
Audience: K-12
Teaching and learning scenarios are still not clear for the fall and beyond, but the challenges that will face us are the same:
How can we best support English Language Learners who are in our classes?
How can we best support English Language Learners when they are in other classes?
How we can best support English Language Learners and their families when they are at home?
How can we best support and maximize the assets brought by English Language Learners so their presence can improve school wide teaching and learning?
Though the challenges are the same, their degree of difficulty will rise as the definitions of what "classes" and "school" change, and, though "home" as always been important, its connection evolves into an even closer one. Given these massive changes, how do teachers of English Language Learners respond?
Larry's keynote kicks off a day of great sessions and opportunities to interact.
VirtuEL is the brainchild of my colleague,
Tan Huynh.
  I'm incredibly grateful to Tan and every presenter.  Here is more about how it works:
Here is the schedule of events for this year: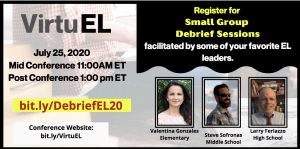 Big thanks to everyone who makes VirtuEL possible!  I hope you'll attend and interact with us on Twitter I'm at @MsSalvaC.  Please use the #VirtuEL hashtag so others can share in your learning!
Take good care!
Carol
PS:  Check out my Upcoming Events! I'd love to see you in one of my upcoming workshops for teachers of newcomers.