"Let's slow down and think about our students." That's great advice from Dr. Melinda Miller in this episode of the Boosting Achievement ESL podcast.
I'm thrilled to share a new book with you and some free opportunities to learn from the authors. My guests this week are my colleagues and friends, Valentina Gonzalez and Dr. Melinda Miller .
You can listen to the show in your favorite podcast app or right here:
Listen to "BAP082 Reading and Writing with ELs by Valentina Gonzalez and Dr. Melinda Miller" on Spreaker.
A question they get often is "Should we make time  for students to read independently every day?"  These literacy and EL specialists say yes.  In the show they explain why it is critical for our ELs and all of of our learners.  We talk about this and other Balanced Literacy components.
During our time together, Valentina and Melinda offer insight and sound advice for teachers who are feeling overwhelmed.  You can join Valentina and Melinda during a few upcoming events around their new book.  One free PD event happens on Oct 28th! Check out the links at the bottom of this post.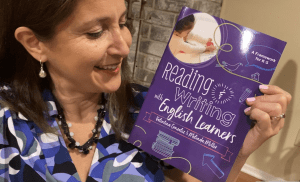 We learn more about their new #ReadingWritingELs resource and how user friendly it is for any K-5 educator who wants to capitalize on the best practices for the Reader and Writer Workshop framework.  This new book is specifically written to support you in working with English Learners but you'll find that it will help you implement Balanced Literacy so that all of your students benefit.
I'm particularly impressed with the layout of the book.  It is very easy to use and even includes an appendix for remote learning considerations.
I remember being a 4th grade teacher and feeling like the workshop model was a mystery.  This book will be such a welcomed guide for any teachers feeling this way or any teacher wanting to better support language learners. The book offers explanations of each component of Balanced Literacy, lessons, research, step-by-step implementation guides, scenarios and FAQ's.  They have also included guides for working with students at different proficiency levels.
Here are links to the events I mentioned:
October 28, 2020
Register for this FREE PD opportunity over Zoom.  Those who register will get access to the recording and their slide deck:'
The book will be available mid-November so register for the Virtual Launch Party on November 5, 2020
It will be a great time with lots of celebration and give-aways!
As soon as the book is available, I will update this page with that link as well as the link to their Reading & Writing with English Learners conference that will take place in December.
Keep your eyes peeled for an upcoming round of #ELLchat_BkClub on Twitter.  Valentina mentions that she & Dr. Katie Toppel are planning the dates now! Those slow chats are a great way to self-direct your learning with other professionals on your own time.   At the very least, follow the hashtag #ReadingWritingELs and be sure to  follow Valentina Gonzalez and Dr. Melinda Miller on Twitter to catch all the resources they are putting out into the field.
Many thanks to Valentina and Melinda for sharing with us.
And thanks to YOU for tuning in and stopping by this blog.
Take good care,
Carol
PS: Join me on Nov 12th at our FREE SLIFE conference