You may already be using a free service that levels news articles.  But our ELs need a site with NO log-in, that is high-interest and offers scaffolds for them. They also need to understand HOW to use a site like this if we want them to get the most out of it.
I have a solution and my students love it.
Listen to this show right here or on your favorite podcast app.
Listen to "BAP083 NewsInLevels for Emergent Readers" on Spreaker.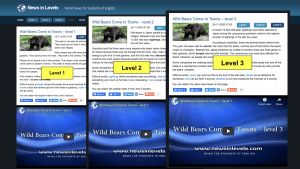 English Learners can take ownership of their language and literacy development with the right tools and techniques.  They also need to WANT to read.  This show offers an example of how to explain NewsinLevels to your students and why it is so powerful as we look to support intrinsic motivation.
I have helped many older ELs gain literacy and key to their success was always more reading.  Dr. Stephen Krashen suggests that the key to language acquisition is free voluntary reading. But if the text is not interesting to the reader, I have noticed that I have a lot of fake-readers on my hands.  Newsinlevels.com solves for this because students choose what they want to read.
In the podcast I promise you a 5 min video of how I tell my students to use the site.  Here is that video, but read on to understand HOW this is working the WHY behind what I am suggesting and more resources.
Key to the success of my learners is their awareness of why they are doing what they are doing.  If you're working older ELs (upper elementary, middle school, high school or adult), you have the advantage that they are older. Older learners can partner with you.  In this show I explain why this website is so powerful and the steps to getting the most out of it.
We first need to remember that our goal for our ELs is not learning ABOUT a language… it's acquiring a language.  The only way to acquire a language is to listen, speak, read and write that language.  And Stephen Krashen's work supports the idea that more reading is the answer for language acquisition.
The only thing that makes a better reader, is more reading.
Give a Man a Fish or Teach a Man to Fish?
Vygotsky told us that learners have a "Zone of Proximal Development" and that we can support our students by working with them just beyond their zone.  Our support, or scaffolding, allows the learner to do more as a way of helping them reach their next zone of development.  NewsInLevels offers many scaffolds so students can work just beyond their independent level. There are images, text can be read aloud, the stories are leveled and the student can use the internet for images.
Multiple exposures to high-frequency words is an important part of being able to decode text as your ELs start to understand more English. If you need more information about how a person gains literacy, check out episode 60 of this show.  Episode 61 is also helpful as it offers more on how to get buy-in from the students.
Teaching  Emergent ELs to read can seem overwhelming but it need not be so daunting.  Know that you can begin reading WITH your students right away.  A strong suggestion is to create text with them and use those paragraphs of co-created mentor text and reading material.  Read and re-read what you've written together and remember that your students understand more English every day.  More on Co-Creating text here.
How to Use News In Levels
I ask ELs to read all three levels of a high-interest article, and explain to them what they should be gaining from it.  When we do this, we are not only supporting their literacy, we are creating conditions that support motivation. Here are my directions for them and then I'll explain about motivation:
Read Level 1
Everyone must read Level 1, even if you can read beyond level 1.
If Level 1 is too difficult, click the YouTube video so that it is read aloud to you.
 Track the print with your eyes.
Notice that verbs are in present tense.
Use the internet if you need to get images or translation.  But come back to this English version and read it until you understand the gist of the story.
Read Level 2
Once you understand the story, move to Level 2. Don't go to a different article yet.
Notice that verbs are in the past tense now and sentences are more complex
Click the YouTube video if you want to hear how the words sound.
 Track the print with your eyes.
Use the internet if you need to get images or translation.  But come back to this English version and read it with support
Read Level 3
Finally, move to Level 3. Don't go to a different article yet until you've read this level.
Notice the difference. This is how most people read the news.  This level is not too complex because you understood the story in Level 1.
Click the YouTube video if you want to hear how the words sound.
 Track the print with your eyes.
Use the internet if you need to get images or translation.  But come back to this English version and read it with support
Motivation
Researchers like the late Sir Ken Robinson agree that we are more like gardners… we can't MAKE things grow, but we can create conditions where things grow.   Here is a great article by Larry Ferlazzo about supporting students to help their motivation grow.  This article is about helping students find their motivation during Distance learning. It highlights Autonomy, Competence, Relevancy and Relatedness.  I watched unmotivated students become very motivated when I focused on those three things.  Here is now NewsInLevels helped me hit those things:
Autonomy – this is about choice.  Students CHOOSE the article THEY want to read.  (Do you prefer to read what you select or what others select for you?)
Competence – If they use it the way I suggest above, NewsInLevels offers them "little wins" the first time they use it.  The scaffolds are build in and tech helps them comprehend text beyond their Zone of Proximal Development.  It is a way to boost confidence and ability.
Relevancy – Students pick articles that are relevant to their lives. Also, if I train them to understand about multiple exposures to high-frequency words, why hearing the text supports our phonics work, how the levels work… they have a metacognitive awareness of how they are gaining language and literacy. The entire activity becomes very relevant.
Relatedness – This means that the students have a relationship with you or with each other.  They feel that you or others respect them.  Because I train all students on how to do this, I am giving them the message that I believe they are able to take control of their literacy development.  Also, we use the articles to discuss what they are reading and recommend articles to each other (we do this over Flipgrid or in person).  This builds relationships.
You don't have to take my word for it.  Here is one of my students (who missed 5 years of formal education) talking about using NewsInLevels on his own time.  It is part of a longer "Using Tech with ELs" virtual session:
In the show I also promised you this research:
Over 90% of homes have a cell phone and over 80% of homes have a smart phone. 
If this type of information is useful to you, you'll probably LOVE this padlet I use with my #RapidLiteracy training. It's full of more resources:
So let's make sure they know what they can use when they do get into a WiFi area.  Let's assume we can help them WANT to learn to read and then give them tools to do it as often as possible.
Also, if you are working with SLIFE (older learners with interruptions in education) that don't have a smart phone… don't you think these young people will eventually have one?  These kids get jobs and it is one of the first things they buy.  We need to show them the power of the internet and what is available to them for free.
We need to teach them to fish.
Thank you for reading this blog.  You're boosting my learning in a significant way.
Please reach out if you need ESL training, coaching, modeling or consulting work in your district.  I work with teachers and instructional coaches across the US and Canada with many references for you.  I continue to be inspired by what educators are doing in this challenging time and I'm honored to help make them be more effective and bring some practical ideas to their craft.
Take good care!
Carol