I realize that I sent you an email about the ML Summit but it is now just a few days away and I posted a podcast episode about it.  So there need to be some shownotes for it.  So please excuse the repetition or you can use this as a reminder that we start-up in just a few days!  Even if you find this post after July 2021, all the sessions are still there…as are the ones from 2017 to 2020!
Here's that quick show just raising awareness for folks who don't know about the virtual free conference:
Listen to "BAP096 You're Invited to The ML Summit (Previously VirtuEL)!" on Spreaker.
These are the show notes I mention in the show:
Dr. Katie Toppel, Tan Huynh, and I are thrilled to bring you our 5th annual completely free, YouTube conference for teachers of Multilingual Learners.
This is the virtual conference previously known as "VirtuEL" and the one that Larry Ferlazzo just called the "PD event of the summer" if you teach ELs.  Links to everything you need are in this post.

You'll find all the sessions and info at the ML Summit Google Site
Want an overview?  Here is a "How – To" explainer video on the home page if you're not familiar with our website or you just don't want to miss a thing:
Dr. Maneka Brooks is our amazing Keynote on June 24th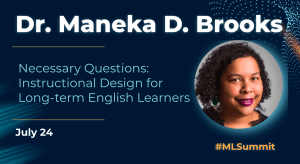 She is followed by a full day of Live YouTube breakout sessions!
We begin on July 5th with the first 3 sessions released and a slow chat about them at the end of the week.
That happens again Week2!   leaders in the field interacting with us each week.
Don't miss the amazing pre-conference sessions happening all month long.  We have the incredible Valentina Gonzalez & wonderful Beth Skelton offering a live pre-conference on July 22.  That day is the only thing that requires registration to offer you a different way to interact.  Space is limited!
And again, July 24th is the big day!
Many many thanks to everyone presenting and engaging!
Katie, Tan & I are so grateful!
Reach out with any questions.
<3 Carol