In this episode, Chris Hagy joins me to explain a strategy and also to talk about how his district is supporting teachers to support their Multilingual Learners.
Christopher Hagy is the Assistant Director for Multilingual Learners in Charleston County School District in Charleston, South Carolina.

You can watch, listen or read about this content.
To listen, just go to your favorite podcast app or listen right here:
Listen to "BAP108 QSSSA Resources ft Chris Hagy" on Spreaker.
The show can be watched on YouTube or right here:
The links we mention are all below. I'm excited to share Christopher's padlet which contains some of our favorite resources around the QSSSA strategy.  He offers the padlet for anyone who would like to use it or share it with their staff.  The padlet address is: padlet.com/christopher_hagy/qsssa
We begin the show by explaining the QSSSA strategy.  Chris's educators in Charleston are being directed to this show and this padlet to learn more about the QSSSA technique that was first introduced to us by John Seidlitz and Bill Perryman in their 7 Steps to a Language-Rich, Interactive classroom. So here is an overview:
QSSSA
Question – Ask a question based on a key concept.
Signal – Offer a way for students to indicate readiness
Stem – Offer the sentence stem or sentence starter to answer the question.
Share – Turn and talk / Share with a partner.
Assess – Get a formative assessment by randomly calling on someone or having students write something.
The technique has been very popular for over a decade because educators recognize that it helps overcome some of the common challenges we face when trying to faciliate an effective "turn and talk."
To make things as easy as possible for his teachers, Chris is offering them a padlet with several different resources to learn about this strategy. For example, we discuss some of the 2 to 4-minute videos that explain the technique and show teachers using it in class.
We also point out that you can copy a slide deck by Molly Lang that serves as a "starter-pack" for facilitating a conversation this way.
And we also describe a very effective script created by Michelle Gill from Abbotsford, Canada.
Another great resource we pointed out was created by Cherry-Ann Gildharry for her math teachers.  It has several stems that make sense for any content area.
Chris explains that all of these resources are in one place because he recognizes that educators are busy.  They may not have time to take 5 graduate classes to get an ESOL endorsement.  He explains that he is happy that teachers have that option and that Charleston County School District supports them to do that.  But he is also glad that they offer other options like book studies and 1-hour webinars.  This padlet that we are explaining today is just one of multiple entry points that Charleston County SD is offering to their teachers.
I applaud Chris for taking an innovative approach to professional learning.  He is offering CCSD teachers different options for how they can personalize their learning journey.
In fact, earlier this year Charleston Co SD and Berkely Co SD teamed up to bring me for a day of learning with all of their ESOL teachers.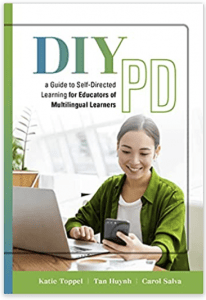 I brought the DIYpd4MLs training to their teachers to help them see all that is available to take your professional learning to the next level.  Tan Huynh, Dr. Katie Toppel, and I wrote the DIYpd book so that educators of Multilingual Learners could see multiple entry points for their self-directed learning. And we offer a workshop to teachers see how easy it is to get bite-sized, powerful professional learning.  I am inspired that these two districts would empower their teachers with it.
Big thanks to Christopher Hagy for coming on the show and for all he is doing for the field.
We wrapped up the conversation by talking about the fact that language acquisition strategies are not 'one more thing' as some teachers may fear.  What we know is that many of the strategies that are necessary for multilingual learners to succeed are strategies that boost the learning of the entire class.  A strategy like structured conversations results in higher achievement for the average learner.  It is good, Tier One instruction.
That is it for this episode! Please reach out to let me know what you think of the show or if you have any suggestions.  Chris also offers this email address if you have questions for him: christopher_hagy@charleston.k12.sc.us.
Thank you for stopping by this blog!
Please take good care,
Carol
"Language acquisition strategies are not one more thing.  They are THE thing."
PS:  I mentioned the TexTESOL conference and the TABE conference this fall.  As soon as I have links for these events I will post them here and also send them out to subscribers of this blog.