Back by popular demand!  PD the way YOU want it! You can do this study at your own pace with this book that is an easy but powerful read. And NO, you're not too late! You and your colleagues can jump in any time on Twitter with the Hashtag #BoostingAchievement or the Flipgrid.  We will leave the last round's flipgrid up and you can contribute or just reflect on the thoughts of others.  If you like answering questions, we'd love to hear your answers or just reflect in some way. Here are some resources and we have a specific posts for each week as well.  I've conducted the book study twice now, so there is more than one post for "week one" on my blog.  Look for links to more resources in each week's post:
Many already have the book but if you don't, it is now $9.99 on Kindle: Bit.ly/KindleBA. You can also get the paperback on Amazon or at our website: www.SeidlitzEducation.com
Those in the know are following Larry Ferlazzo on Twitter  and also Kirsten Lindle of TESOL who both recommended #BoostingAchievement highly for anyone working with ELLs:
 I've just finished @MsSalvac 's book. If you have any ELL students in your class, you'll want to read it! https://t.co/7sfa7vVo68 Great job! pic.twitter.com/SkVrjreUCc

— Larry Ferlazzo (@Larryferlazzo) June 25, 2017
Anna Matis and I know that there are several book studies going on so we monitor the hashtag #BoostingAchievement on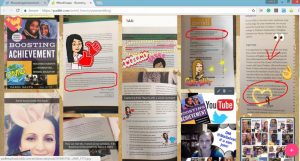 Twitter. We will do our best to collaborate with you as it only betters this work!
Not good with Twitter? No worries! You can just follow it there.  We encourage you to use #Booksnaps(thank you Tara Martin!) if you'd like (please include a sticker of the book cover to cite author and title). Or maybe you want to participate in a Flipgrid like this great one we did during #ELLChat_BkClub this summer. 
The initial book study with more resources is on this blog at bit.ly/BoostingAchBookStudy for anyone who wants to do it solo or in their district. I'd be happy to collaborate on that as well.
Hope to see your thoughts about the book and how it is impacting your work with your students.
We all learn better together!!
Carol
PS: Check out #ELLCHAT_BKCLUB on Twitter.  They are on to the next book but is where we got our start with online book study and I participate in every round if possible. Thanks to Katie Topple and Tan Huynh for creating such a wonderful place to collaborate about books.