Great news! I have a way for you to honor your students, help them produce and acquire your target language, make connections to content area standards and have a lot of fun at the same time.
Does it sound too good to be true? It's not!  I just  recorded a podcast explaining this all in more detail and you can listen to it right here.

This episode is about a recent field trip we took but also about how we prepared for it!
This 3 min video shows how we did it:
These are the steps you'll see in the video:
Discuss: the site and determine what background the students have.  I found a 3 minute video of the Texas Revolution and used some of the screenshots to make a Kahoot with facts about the history of the historic site.
Discover: Students created questions for Dr. Jonathan Lohse, an archeologist working on site with the Texas Historical Commission.  We had an opportunity to ask those questions of him in a quick 30 minute Skype session before our trip.
Connect: We connected virtually with Dr. Lohse and then, of course, we visited the site.  The day of the visit, the students were very engaged in the hands-on activities and they also came with context for what they would be seeing.  Our classroom discussions had led to connections in their own lives. You can read more about that below.
Reflect:  Students recorded who they met and what they wanted to remember about their visit.
The history of our first colonists in Mexican Texas, the U.S. revolution and slavery are concepts that are generally covered in middle school.  So my newcomers would not have that background.  I appreciate how much we could expose them to in a short period of time that lead right up to what they should be studying in US History now.  We will now discuss indentured servants, the civil rights movement, the cattle industry and more as they relate to this historic site in our area.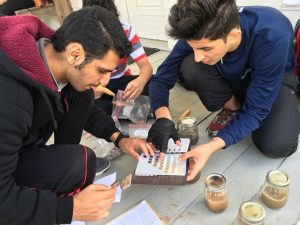 I am very appreciative that the Texas Historical Commission put together a great day for us to learn from different archaeologists and historians in the field.  I was thrilled that my students, even those with very limited English, were able to ask their very thoughtful questions and learn about real world applications of science and technology within a Heritage Learning unit.
My recommendation when planning a trip is to consider your students' background and also what education partners are particularly suited to help you reach these learners.  For me, I keep coming back to archeology.  If we work with archaeologists, we are able to tie history and heritage directly with science, technology and math.  These professionals can demonstrate many real world uses of what our students are learning in their content classes.  Some examples I mention on the show are the mathematics of measuring dig units such as Pythagorean Theorem,  using data and plotting on a grid. The scientific process is used continually along with earth science and concepts learned in chemistry such as half life and carbon dating.
One of the most important reasons to expose our immigrant students to archeology is that it allows us to have discussions as to WHY we want to know about our past.  We are able to have conversations about honoring ancestors and we open the door for our students to share about their culture and heritage.
For this year's study trip, we decided to learn about and visit San Felipe de Austin State Historic Site.  The Texas Historical Commission is a wonderful education partner who has always welcomed the unique perspective our language learners  bring.  The history of this site includes immigration when our area belonged to Mexico.  There were thousands of American immigrants crossing the border to become Mexican citizens at that time.  After many years, these settlers became unhappy with the Mexican government and so there was a Texas Revolution.  Instead of seeing this as content that is unique to Texas History classes, we can look at a broader view.  We have many parallels to US History and World history when we learn academic vocabulary and concepts such as "colonists," "colony," "revolution," "constitution,"push/pull factors", etc.  And we can take the history of the conflict and open a space for students to make connections to what is happening in their countries today.
One of the most important historical events at this location was The Runaway Scrape.   After the fall of the Alamo, the residents of the town of San Felipe de Austin were ordered to burn their homes so the advancing Mexican army would not capture it.  The terrified residents grabbed what they could carry and fled eastward.  This concept of citizens having to flee their homes in a time of war is all too familiar to my students.  Many are refugees or fled a place of violence.  They have shared stories of losing their homes and possessions due to a war.
The students are finding so many parallels in history to what they have experienced or what has happened in their countries.  All of this, plus a chance to ask their questions, created very high engagement and a compelling desire for output.
I would encourage ESL teachers to review standards that are being taught in content classes so that you can use what makes sense in your ESL classroom.  If you are unable to plan with content teachers, they might provide you with their scope and sequence, their standards to be covered or you may be able to find this information on your own (ie: Common Core standards, TEKS, etc.).
Our main priority is to teach English speaking, reading, writing and listening skills.  But if  you can make science, math or history compelling to your students, it will benefit them greatly to learn English within a unit that incorporates those standards.
You may also be interested in a blog post I wrote last year with step-by-step directions to a great ESL field trip.
Thanks for reading about our adventures. Keep your expectations for your ELLs high!
Hugs,
Carol
PS: Present at #MADPD!  We all need to be presenting there. Your proposal WILL get accepted.
PSS: Want more support? Please contact Kathy Belanger if you'd like me to come to your area to work with you or your teachers!  I'd love to!
PSSS:  Please join us for the Boosting Achievement Conference in Dallas/Ft.Worth area on 3/17.  Here is all the information: