Grading English Learners can seem to be a difficult task but this need not be the case. 
I have three friends from our PLN to help me tackle this topic and they bring with them great insight and practical resources for you to use. You can listen to the show in your favorite podcast app or right here:
Listen to "BAP063 Grading and Assessing ELs" on Spreaker.
Big thanks to my guests on this show! This is what they told us about themselves.  These descriptions are only a fraction of their bios which include significant contributions to the field:
Dr. Katie Toppel is a K-5 English Language Development Specialist from Portland, OR the co-founder of #ELLChat_BkClub. Katie is a former adjunct professor for Portland State where she taught courses such as Assessment of English Learners.

Tan Huynh is the author of the popular blog, EmpoweringELLs.com, Tan is the other co-founder of #ELLChat_BkClub and a co-founder of the annual, online VirtuEL conference.  He is currently the designated EL teacher at an international school in Vietnam.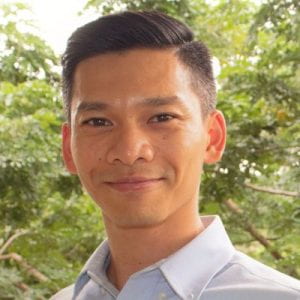 Valentina Gonzalez is a former elementary teacher, ESL Facilitator and PD Specialist from Houston, Texas.  She is currently an Educational Consultant and content creator for Seidlitz Education.
As you listen to this episode, you'll hear us mention the following resources:
#SeidlitzEdChat
Valentina hosts the popular #SeidlitzEdChat on Twitter every 1st and 3rd Tuesday of the month at 7:00pm CT.  Click on this Twitter moment link to see some of the tweets shared on Dec 17th in a #SeidlitzEdChat about grading.  Tan Huynh co-moderated this chat and turned out to be the catalyst for this show!
These chats are a fantastic place to share our learning and growing in our understanding of how to best serve ELs.
⚡️ "#SeidlitzEdChat on Grading & Assessing ELs" by @MsSalvac https://t.co/i5cBgMnedQ

— Carol Salva (@MsSalvac) December 27, 2019
Grading Newcomers, A Can-Do Approach by Emily Francis
A great blog post by Emily Francis was shared that helps us see how she uses the WIDA Can-Do descriptors to guide her in assessing and grading English Learners.
Emily was a guest author on Tan's blog and you can read her post in its entirety here. Emily shares her step-by-step process for using the descriptors.  The post not only has links to WIDA charts and resources, Emily also includes Kindergarten through 12th grade progress reports for you to copy!
Interactive Tool for Using Can Do Descriptors by Dr. Irina McGrath and Michelle Shory
If you are part of our PLN, you likely know the names Dr. Irina McGrath & Michelle Shory. If not, start following these EL greats asap.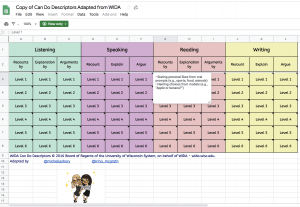 They routinely share tools they have created for supporting EL teachers and their students.  Irina and Michelle created an interactive tool that makes it easy to access each of the descriptors electronically.  Simply roll over the levels and and descriptor  pops up for you to read.  As usual, they have shared it for us to make our own copy here.  
Middle Web articles by Valentina Gonzalez & Tan Huynh
For further reading on the topic of Grading and Assessing English Learners, don't miss the following articles written by our guests earlier this year:
How We Can Fairly Assess English Learners is by VALENTINA GONZALEZ
Design Your Tests with English Learners in Mind is by TAN HUYNH
Another Great Article by Larry Ferlazzo
We also mention that Larry Ferlazzo describes grading as just one form of communication to parents.  In this blog post, Larry and his partner teacher, Katie Hull Sypnieski, share their common sense philosophy on the topic of grading.  In it, they describe being bewildered by the angst and stress of teachers when grading ELs.  "We view grades as information.  They are one of many forms of communication we use with students and their parents, and definitely not the most important kind.   As Rick Wormeli says, they are not rewards or punishments." – Larry Ferlazzo  Read the entire post here. This insight is well worth our time!
Dr. Katie Toppel's Reading Suggestions and ELLCHAT_BkClub
In the show, Katie mentions the learning we are getting right now in this round of ELLChat_BkClub.  The current text is Breaking Down the Wall and it offers a great chapter on shifting how we see assessment of learning to assessment for and as learning.  
"Assessment FOR learning is considered a process that is integral to and embedded in the instructional cycle, not divorced from it" (Gottlieb & Katz, 2020). #Ellchat_BKClub #BreakingDownTheWall pic.twitter.com/bTK2Y77a3w

— 🌍 ναℓєηтιηα gσηzαℓєz (@ValentinaESL) December 7, 2019
This is just one example of the many #ELLChat_BkClub featured resources that help us get a clearer understanding of best practices for assessing English Learners.  We highly recommend that you join us if you are not already plugged in!  Check out all the books we have studied at the website Katie created.
Another text recommended by Dr. Toppel is Assessing English Language Learners by Margo Gottlieb. 
Thank you again to my guests for this show and as always, thank YOU for tuning in!
HUGS,
Carol