Tonya Ward Singer is back to challenge our thinking!

Tune in to this episode to hear me collaborate with Tonya in preparation for the keynotes we are giving at this year's ELevate conference. Tonya is the Oct 2nd Keynote and I will be keynoting Oct 3rd!  Because you subscribe to this blog, you are going to get a lot of the learning in this show.  But we would love to have you join us for the conference as well and here are the details:
ELevate: Elevating English
Learner Success Conference
CLICK HERE to learn more and REGISTER
Wednesday, October 2, 2019 & Thursday, October 3, 2019
Holiday Inn – Route 66  St. Louis, MO
You can get a lot of the learning by tuning in right here or watching the YouTube version of this conversation right here:
Tonya and I decided to sync up so that our keynotes were in alignment. We decided to go ahead and record our conversation so you could get a peek into what we will be sharing and how our messages connect to each other's.
In this show you will hear us mention a few folks so here are the links to follow them:
Katherine Dierschke is the student teacher I mention.  Katherine is now a certified teacher and is still and excellent ESL educator!
Emily Francis was mentioned when we talked about texts that are "Mirrors and Windows." We also make sure we mentioned Emily Style who is credited for coining that expression.  It has to do with students seeing themselves in books but also having books that give them a view of the world beyond their current surroundings.
Here are a few, but not all, of the topics we discussed in this conversation:
The power of being humble
Higher order thinking skills for all students
Partnering with your students
Having engaging conversations even if they are uncomfortable.  Conversations that disrupt!
The hierarchy that exists in classrooms, campuses and even within our profession
Dialog about how the hierarchies are shaping our action and our inaction
Really listening
Stepping into the classroom as a learner
Having ambitious goals and trying things
Cognitive dissonance
Confirmation bias
WOW! Those are a lot of topics!  I'm so honored to get to talk to Tonya about these things. She is an important part of my PLN and you can see why.  I hope you are also following her.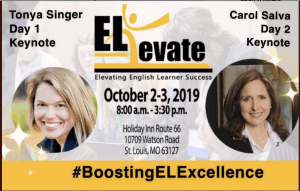 Here is the registration link to the conference:  ELevate: ELevating English Learners' Success 
Check out these hashtags to learn more:
#BoostingELexcellence (tweets about our keynotes)
#ELExcellence (this is Tonya's latest book)
#BoostingAchievement (the book I wrote with Ana Matis)
I love that Tonya ended the show with that quote:
"May we all have the humility to listen and challenge our own thinking."  – Tonya Ward Singer
Thank you for checking out the blog.  Please join me on Twitter.  I'd love to hear from you.
Hugs!
Carol
Here are other places you can join me IRL!
Detroit on Oct 10th for 7 Steps training:
I'll be kicking off KYTESOL this year with a full day of Boosting Achievement!  Don't miss it on October 4 & 5th
I'll be the keynote speaker for BCTESOL in British Colombia in the fall. FULL DAY of Rapid Literacy Pre-Conference Oct 24 and then the Keynote on Oct 25!
Coming to Colorado as a featured speaker for COTESOL on Nov 8th.
One of THE BEST DEALS around will be Boosting Achievement in Springfield,  MO on December 5th.  Excited to partner with RPDC -Agency for Teaching, Leading and Learning in Missouri!