Yes, the book study is starting! Questions are at the bottom of this post and this post ties directly to Week 1!
For the next 5 weeks, I will publish a post that will have new content for anyone serving English learners and will also offer more information and resources to go along with our Boosting Achievement #ELLChat_BkClub book study. I will include specific book study information at the end of each post (scroll to the bottom for specific questions).
What is Possible for S.I.F.E?
Imagine that a non-English speaking student arrives at your middle or high school campus.  This student has little or no literacy in their native language because they lack formal education.  This young person has social emotional needs because they have had to endure war, displacement or a life of mobility. Their age dictates that they must attend school with peers regardless of their limited educational background.  Your district has no "newcomer center" or the center is full so they will be enrolling at your comprehensive middle school or high school.
These students are known as SIFE (Students with Interrupted Formal Education) and their educational background may be minimal at best.
If this scenario seems overwhelming, we have good news.
It is true, due to events in our world, this demographic is growing in public schools around the globe and they need special attention for their circumstances. But these students can not only survive in regular secondary schools, they can thrive! And our pedagogy can grow to better serve the entire class because of researched based strategies we will employ to address their needs.
All we need to do this week is realize what is possible for these students.
Check out the Introduction to the book.  **Do not skip the introduction**  It is written by Tan Huynh.  He is arguably one of the most influential  educators sharing on Twitter and his story will frame what we can expect from this book.  It will also likely move you on an emotional level.  The questions at the bottom of this post align to his writing.
In addition to the book's introduction, we can look around our world today.  Let's just reflect on just ONE of the many examples of SIFE who are having success today.  This story goes a long way to help our mindset and that of our students.
Emily Francis

Emily Francis was a SIFE student who entered high school in New York with a 6th grade education from Guatemala.  At 15 years of age, she was a recent immigrant, a non-English speaker who was far below her peers in literacy and content learning. She was also helping to raise her siblings because mom was working all hours to support 5 children on her own.
Today, Emily lives and works in North Carolina as an ESL teacher (yay!).  Among other accolades, she was the Teacher of the year for W.M. Irvin Elementary in 2015 and Teacher of the Year for Cabarrus County in 2016.  Incredibly,  Emily is an ELL #FAB5Squad Teacher for the Teaching Channel. 
Just a few of her press appearances & mentions here:
Independent Tribune, May 6, 2016: Emily Francis Named Cabarrus County Teacher of the Year
Independent Tribune, May 10, 2016: Bridging the Cultural Gap Lands Francis Teacher of the Year
Independent Tribune, July 27th, 2016: CCS Approves School Choice Plan
Independent Tribune, February 8, 2017: Spanglish: Irvin Students Learning Language and Culture
Independent Tribune, March 21, 2017: Elementary School Holds First Spanish Spelling Bee
2018 update!  Emily is on the Ellen Show!
Emily is an amazing example of how our Students with Interrupted or Minimal Education CAN overcome obstacles and they CAN succeed in life. They can, in fact, become some of our most important leaders.  Please check out Emily's blog if you'd like to know more about her journey.  You can also listen to a recent podcast where she is interviewed by Derek Rhodenizer on Beyond the Staffroom.
Here is a 3 min video of how I met Emily & her students:
If you are reading Boosting Achievement, you can skip to p.41 to read about it. It is also detailed in this blog post.
Next week we will look at who our SIFE students are and what basics we should know to help serve them.
*-*-*-*-*-*-*-*-*-*-*-*-*-*-*-*-*-*-*
Week 1 Questions & More Resources
To support teachers of these students, Anna Matis and I have written Boosting Achievement; Reaching Students with Interrupted or Minimal Education.  It outlines best practices for serving Students with Limited or Interrupted Formal Education (sometimes referred to as SIFE or SLIFE).  It is full of practical techniques that are resulting in success for SIFE and newcomer students in my current classroom. It is the result of our combined years of teaching experience as well as professional ESL and ELA consulting.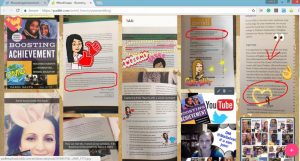 During Week 1, you may want to listen to Tan Huynh's interview on the Rolland Chidiac Connects podcast. He wrote the forward that we are reviewing this week and he tells his story at the beginning of the show.  Tan is another ESL education leader so his perspective, coming to America as a refugee, is another important narrative for us to consider.
WEEK ONE QUESTIONS:
Participants are free to deviate from the following questions and post reflections, #BookSnaps, add insight and advice to the group over the current section.
WEEK ONE  Where we Are, Forward and Introduction
1Q1) Roll call: introduce yourself, name, role, grade levels, country/state etc. Are you a returning participant or a new to this group?
1Q2) What makes you interested in this book/topic?
1Q3) How is your school addressing the needs of SIFE (students with interrupted formal education)?  What are your desires for systemic solutions.  What are your concerns?  What are some things that you are proud of in terms of supporting SIFE?
1Q4) Please reflect on the forward by Tan Huynh (@TanELLclassroom). Tan is a leader in ESL education. What are your reactions to his story? His thoughts on the book?   How does his story inform what we do as teachers?
1Q5) Carol writes a reflection about her first experience with a large group of refugees. She has several years of experience as a specialist with a background in ELA, Bilingual Education, ESL and Special Education.  She was still worried that she would fail these learners.  How can teachers overcome self-doubt?
1Q6) Without romanticizing the situations of SIFE, every circumstance has something that can be used in a productive way.  One example is brain research showing that there are possible cognitive advantages when a person is not immersed in technology for years.  What are your take-aways from the work of Nicholas Carr & Jane Healy (found on p. 11)?
1Q7) As you flip through the Table of Contents, what section are you most looking forward to discussing? Why?
Thank you to everyone reading this blog.
I'm inspired by how many educators want to spend time reflecting on our SIFE. I feel strongly that as we get better at serving them, we get better at serving all students.
Stay awesome,
Carol