I'm happy to pass along resources (objectives, readings, writing prompts, links) to a BEAUTIFUL unit of study.  It's not just about the time between MLK Day and Valentine's Day. While it was done in the Middle and High School Newcomer/SLIFE classroom, it can be adapted for any group of learners.  It is updated with links for remote and Face-to-Face classrooms.
This unit fosters Student Voice as well as supporting  Social Emotional Learning and higher-order discussions/reflections. 
Here is a full lesson with links and ideas for extension. Any time of year is a great time to talk about leaders such as Dr. Martin Luther King, Jr. and his role in history.
A focus on equality and social justice comes at a perfect time. In this show, I will go into detail on how I begin with a review of American history and end with Acts of Kindness.  No, I am not the history teacher.  But connecting to the content areas has never been so inspiring as when we do these activities!
You can listen to the show in your favorite podcast app or right here:
Listen to "BAP085 Kindness MLK & Valentines Day" on Spreaker.
I start this show by mentioning Noa Daniel and her great www.BuildingOutsidetheBlocks.com website.  She helps us see how to facilitate projects that are built outside of class time.  You might also check out this interview I did with Noa. Her philosophies transformed my practice!
The lessons I share in this show were done in my Newcomer classrooms but much of the work by students is done outside of class. (Noa taught me how to inspire kids to WANT to work outside of class time)
OBJECTIVES
We begin with the following objective at the knowledge/understanding level but you can see in the image that we will be at much higher levels of Bloom's by the end of the unit.
Content Objective: I will identify Martin Luther King, Jr. and be able to explain his role in American History.
Language Objective: I will explain my learning to my partner by completing the following sentence frame:  "Martin Luther King, Jr. was important to American history because …"
Below I will explain the first lesson step by step.  In the bigger picture, I will be using these materials over several days so my content objectives change to cover verb tenses, social studies vocabulary, idioms as well as  Author's purpose, and more. Initially, my goal is to give my language learners enough of the basic facts to elicit rich conversations about social justice and equality. 
A larger goal I have is to make sure each of my immigrant students understands the sacrifices made by Dr. King and other civil rights leaders.  I want them to know that they are vitally important to the fabric of our nation.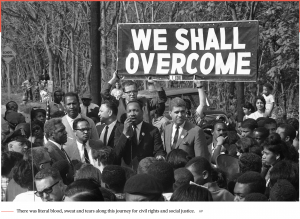 I want them to know that there are so many people then and now that are willing to fight for their inclusion. And that this great man showed us how to fight with love.  These are messages that should not be lost on our English language learners.
The First Lesson
 Our students need to understand the basic facts about Dr. King's life.
Here is a slide deck to show you what my ppts looked like.
I roll out this first lesson in a TALK, READ, TALK, WRITE  (#TRTW) format. If you want to know more about the TRTW approach, I recommend this VirtuEL17 video by Nancy Motley, the author of Talk, Read, Talk, Write.
Talk #1:  The following quote is on the board for the students to consider. "Treat others the way you want to be treated."  I tell students that this is what is known as the "Golden Rule." and I ask them "What does this mean to you?"   To ensure that all students have low-stress opportunities to think and share, I use QSSSA for Talk #1.   If you're unfamiliar with this great technique, it will change your life!  John Seidlitz developed this acronym for using several sheltered strategies together called Question/Signal/Stem/Share/Assess.  Valentina Gonzalez wrote a wonderful post about it here.
Read: Shared reading or partner reading of the text. To help them understand his biography,I have adapted a piece of text, 
Students work to answer questions that will also be in a Kahoot at the end of class.  My students know that they should be tracking print with their eyes whenever anyone reads a text aloud. They are trained to understand that they will get more sight words and more phonemic awareness the more they follow along as others are reading.  (Some of my higher students leave the room to do the reading and the collaboration in the library.  Most often I prefer that they stay because my groups need high, medium and lower levels of English.
Talk #2: I have linked here a quiz sheet about Dr. King's life. Some answers are from the bibliography and others are meant to be researched.  I don't care how they get the answers, my goal is to have them collaborating about the quiz sheet to prepare for the Kahoot.
Here is the link to play the Kahoot: https://play.kahoot.it/#/k/5f20a54c-f971-433e-befc-b24ac100e1a1
I have to give credit to Kahoot Hero NekyaHB.  She created a great Kahoot 3 years ago which I duplicated and adapted for my language learners.
I love the engagement I have with the students because they know there will be a Kahoot over the material.  But I don't want to waste this engagement at the knowledge level of these facts.  I make sure to use visuals in the Kahoot so I can ask students what they notice.  We stop between many of the questions to discuss their thinking and their questions.  You may like this video on how I use Kahoot with newcomers.
The quiz sheet and the Kahoot are guided activities.   
Throughout bot,h I use QSSSA to have students discussing their connections and thoughts about the work of Dr. King.  We also generate more questions during this time.  Native language is allowed but we use frames for English speaking and we do a lot of reading aloud in unison.
Write: After the Kahoot we have a quick write to summarize our thoughts about Dr. King.  I do this as a shared writing with my newcomers.  I use their ideas but I scribe the brainstorm and the free write in English.  See more on the Language Experience Approach here.  My intermediate/2nd year students do this more independently.  They still offer ideas for the brainstorm and I scribe them, but they compose their paragraphs independently.
So many lessons follow this one using and building on these materials. Thanks to Larry Ferlazzo, we have all of these resources from his blog. Here is just one example: New videos for teaching about Martin Luther King
And now in 2021, MLK resources like these from Activity Learn are also free to teachers. 

In my last year of teaching, I added a Flipgrid opportunity for my students.  Thanks to Jess Bell, who sent me this flipgrid example. 
  She has her students recording what their dream is.  The intro video should get the students off to a great start.
Helping ELs Feel the Love
One of our final lessons happens around Valentine's Day but I've done it at other times of the year during Kindness week or any time we want to focus on random acts of kindness.  This blog post shows you how we had authentic writing opportunities using what we learned about MLK.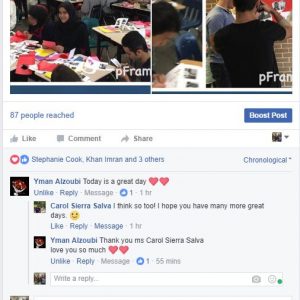 There is quite a bit we can teach when we couple Kahoot, videos, adapted text and Flipgrids with our language and learning targets.  Especially when we are using great sheltered strategies techniques.
I hope you found this helpful.  I can't think of a better time to be using the teaching of Dr. Martin Luther King, Jr in our classrooms.  Please let me know if you have more ideas that go with these.  I continue to learn from our PLN and I'm grateful!
Thanks for reading!
Carol.
PS:  Don't miss this recent OnEdMentors podcast with EL leaders!
or this free webinar coming up for TransAct.  If you miss it, you can get it in replay
PSS:  Please reach out if you are interested in consulting or training.  I continue to be inspired by the educators in every district where I work.  We all want the same thing.  We want to help students be successful.  It's my honor to share strategies that support those goals!  You can reach Kathy Belanger of Seidlitz Education to book me at kathy@johnseidlitz.com.  Or contact me directly at carolsalva1@gmail.com