Here is a chance for you to visit my classroom & reflect with me!  This show is a recap of a lesson where I had a visiting teacher.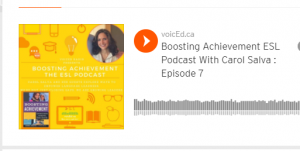 I want to first thank an awesome volunteer, Paula Gomez! She is a wonderful community member and I am grateful for all of her support. 
She makes sure our students feel that they are important and they always ask about her when she is not able to come.  Thank you, Paula! You make such a difference!
Do you want volunteers like Ms. Gomez?  You can use this video below!  You might be surprised what happens when this goes out to your local community.  It is a quick explanation of how simple it is to make a big impact for newcomers as a volunteer:
So, yes!  We had a visitor from Round Rock ISD.  That is a district that has hired Seidlitz Education (the consulting group I work through) for many sheltered instruction trainings.  They are very supportive of their teachers of ELs!
So in the show I mention Language Experience Approach. This link from cal.org has a good summary with steps to follow in using this approach.  Christy told me that she does this as well. It is a favorite of mine for having SIFE or Newcomers reading co-created text from Day 1 in your classroom.  Boosting Achievement book has the steps for newcomers as well.
Yes! Thx! It's an awesome way to do shared reading & writing that also hits listening & speaking. p82 #BoostingAchievement pic.twitter.com/jLsxAEcFCW

— Carol Salva (@MsSalvac) October 27, 2017
Christy saw my NELD  class which is a Newcomer English Language Development Class.   Read more about our guidelines for that class here.  I talk about NELD a lot so I focus my reflections on my Reading II class.  Both classes are choosing presentation topics right now.  I talk about why I believe that our SIFE students need a Reading II class that is focused on literacy and ESL for their specific needs.
I can't talk about the power of reading without mentioning Stephen Krashen
In the show I explain that I share statistics with my students related to amount of reading & how many words they see a year.  Thanks to Nicole Marino for posting this visual she made based on p. 76 of our Boosting Achievement book:
pg. 76 of Boosting Achievement: a version of this will be posted in my room asap. @ellchat_bkclub @MsSalvac pic.twitter.com/pm3fbs2PnY

— Nicole Marino (@missmarino222) September 15, 2017
The lesson was about choosing their topics and reflection on why choice is important.  My reading class will do things with this that are a bit different from the NELD class but both need choice projects. It's critical for engagement and if goes as it usually does, the projects are compelling for them.  Not just high-interest… compelling. This is from Stephen Krashen's Compelling Input Hypothesis. 
We must tread lightly and really get to know our students if we are going to invite them to share their stories.  They should never be made to share about their migration or other personal parts of their background.
This is why a choice project is critical.
The Lesson:  I explained the choices with visuals & a 3 min video of last year's students talking about it. They could choose My Migration Story, My Country vs USA & What's in a Name or any topic they want to choose.  Here is a link to the ppt I used. 
You can use the following video if you want to show your students that you care about their voice and their interests.  I like it because you see images of a variety of projects so your language learners have visuals and understand what a presentation might look like:
I have a lot more videos you can use for PD or for your class here at the Video Page of this Website. 
I mention that a big challenge with ELs is that we may not have enough time for them to be prepared!  Noa Daniel has an answer for us!  You can plan projects that build OUTSIDE the blocks of time! More on Building Outside the Blocks projects at her website.
Here are a few artifacts from the lesson.  I improved the planning page based on our reflections:
What went well:
Content Obj & Lang Obj review
Choral read and tracking print of objectives.
Asked students to rephrase what we would be doing.
Video reflections by SS from last year w images of projects
Slowed my rate of speech
Pointing & Gesturing
Stopped frequently and allowed L1 for negotiating meaning.
QSSSA is a great questioning technique for structured conversation. Valentina Gonzalez wrote about it here.
Pair up and talk activities – SO MANY times. Some were Middle School Dance (change partners 3 times), Find Someone Who…, Peanut Butter & Jelly… We share many activities for pairing students in our trainings.  Several are from Dr. Spencer Kagan.  More on him here.
Lessons learned for me:
Several. Ugh!  Like many teachers, I could rip it apart every time!  But I feel like we must resist that and focus on ONE or TWO things we want to change. Both Christy and I noticed the confusion of having the frames for the two different objectives on the same planning page.  In the images below you can see the difference.
Even though I told them not to look at #2 question, this is confusing to newcomers:
We also reflected on a few students in who were disengaged.  We need to be careful about how hard we are on ourselves with this and consider the circumstances of students.  There is a reason why they are disengaged.  It is usually something I can better about instruction but sometimes it is what is personally going on with those students.  In the show I offer some background on these students.  Some have things going on at home that are very difficult.  Some have had me earlier in the day and part of my mini-lesson is a repeat. This photo is the work of one of my disengaged students.  This makes me realize that the project is meaningful to him.  
I also reflect on one of the students who is just gaining literacy.  She has no L1 literacy and is new to English so I expect that she will start to tune out a bit. 
I have visuals in my ppt and using gestures but some of the comprehensible input for her needs to be in the checks for understanding and L1 collaboration with her peers.  As a teacher, I need her to get into a guided activity where she is supported and has opportunities to speak in L1.  Our language objective, all the sentence frames and opportunities to work with partners will have the English speaking and writing goals met.  This SIFE student has been trained to focus on gaining sight words and phonological awareness when we are in English and negotiating meaning in L1 & L2.  It is a balancing act but at the end of the lesson, everyone met the objectives.
Here is the project planning pages I will be using with the students. They have the language the students may want to use.  Special thanks to Noa Daniel for the W.I.N. project and the timeline help.
In the show I mention that I learned about teaching to the top 25% from from Leo Gomez.  I am a Gomez & Gomez Dual Language Certified Trainer and I highly recommend their model for Bilingual teachers.
Another big thanks to Christy Reynolds.  I appreciate the collaboration and can't wait to come see you in Round Rock!
UPDATE
Here is a sample from one of the completed projects:
Thank you again, Christy, and thank you again, Noa Daniel!
and thank YOU for reading and/or listening!
Hugs,
Carol
Hope to see you in person soon or online!