EduHero Friends,
Congratulations on a job well done!  You may be sitting there thinking, "Carol, you have no idea what I have or have not done."
Well, what I know is that you are looking for tips to better your pedagogy with language learners. I know you care enough to read a blog about it on your own time. That, my friend, tells me all I need to know.  If you are that kind of teacher, you are the kind of teacher that has made some personal connections with your students. You are the kind of teacher that keeps learning for your students.  You are the kind of teacher that believes in kids! It makes a difference.  Take a moment to be so very proud of all you accomplish in your learning space.  Those accomplishments are magnified and multiplied by them students who leave your care.
As I am writing this, we just ended our school year.  I have to share the pics we took at graduation!  We graduated several newcomers and our first SIFE student from a refugee camp in Africa.  I was not his teacher as he came last year.  But I watched what he did to close his gaps and my newcomers benefitted greatly from his example. We will have more and more!
Inspiring 2 see these recent immigrants close their language & academic gaps. Be proud, Scholars! #SBJourney #ELs_CAN #ellchat #ELLs pic.twitter.com/yyC8e1mCx5

— Carol Salva (@MsSalvac) May 28, 2017
So Now What??
Well, here are my top recommendations for getting ready for next year.  Feel free to reach out to ask any questions about my thoughts here: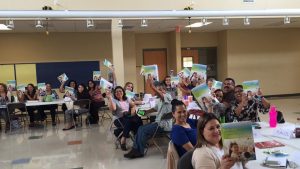 1) Check out your Non-mandatory District PD
I'm excited about QTEL and other training being offered by my district. Be sure to take advantage of what is in your back yard.
2) Create a Twitter Account.
Follow #ELLChat, #TxTESOL4  to learn and #ELs_CAN to be inspired. (Thx @Carlotta_Holder ) Then follow other hashtags as you find them.  Don't worry about mastering Twitter.  Just get over there, search on one of these hashtags and you will be amazed at the information being shared. Follow me at @MsSalvac, @LarryFerlazzo  & @TanELLClassroom to start.  Then follow some of the amazing folks that we retweet or that you find in the twitter chats. (what are Twitter chats?  Wow, you are missing out.  Follow me there, send me a message, I'll get you hooked up.  Awesome PD by teachers for teachers in your PJs.)  Oh! and be sure  to start looking for #VirtuEL17 hashtag to take off.  We have a great virtual EL conference coming to you on June 17th!
3) Submit a Proposal for an ESL/ELL Conference
Why? Because it makes us better. Just like the students, we gain so much when we teach something to others. No stress on this. You probably have many things you can teach others.  But some have told me that they don't feel like they are an expert in anything.  Well, did you try something?  Did it not work?? Great! Bravo for taking risks and now you can submit a proposal for a "Lessons Learned" presentation. Folks love to hear the honest lessons and successes of others. If something didn't work well, why? That is a great example of failing forward and we can all benefit from your reflection and growth!  And think about doing it for the state TESOL conference here in Texas (#TxTESOL4).  We have folks coming from all over!  Stephen Krashen & John Seidlitz are keynote speakers.  You can't go wrong.  Here is that link: http://www.textesoliv.org/ You'll meet some awesome ESL PLN friends like @ValentinaESL, @KarenElizLewis, @DiegoJulissa  & the awesome @EmilyFranESL who will present with me!
4) Create a Selfie Kahoot for the First Day of School
Easy to do just before we go back.  You are simply creating an online quiz  about yourself.  This is a great way to get to connect with all learners on Day 1.  Use visuals so ALL of our students get to know their new teacher.  Next step, Kiddos creating a Selfie! Here is a blogpost Kahoot asked me to write about that: Language Learning with Carol Salva Part 2, Selfie Kahoots.
5) Participate in a Summer Book Club for your own Personalized PD.
If you want to join in on some awesome reads this summer, search #ELLchat_BkClub.  We will be doing a few different books thanks to @TanELLClassroom & @Toppel_ELD. I am having to sit one out right now and it is KILLING ME! The beauty of this is that the questions & answers are published so I can still learn a ton from what others are reading.  I just follow that hashtag.
6) Plan SOME Type of Language Assessment for Mid-fall.
Consider how you are going to assess language development 3 months into the school year.  Or even more frequently.  It can be random writing samples, a rubric, or something that mimics your standardized assessments.  Doesn't have to be laborious but we do want to see growth & plan for adjustments way before the end of year assessments.
BONUS:   Take What You Learn District Wide.  Read @ValentinaESL's Post about Creating Systemic Change.
If you are driven to take what you are learning about  serving ELs, and share it with your staff or your district, Valentina Gonzales published an amazing post on how to do just that.  It is a must read for administrators but teachers like us can also benefit from her perspectiive.  Systemic solutions are where the most pay-off is for us and for our learners:  A Common Thread That Binds, Creating Systemic Change
ALSO!! Our resource for boosting achievement of SIFE is now on Amazon and we are getting booked up for training dates.  My fabulous co-author, Anna Matis, and I are so humbled by the response and we are so happy to be helping ESL teachers who work with under schooled students.  Boosting Achievement on Amazon & Here is a link to training & ordering in volume for your campus: Boosting Achievement on Seidlitz Ed website.
So those are my biggies.  Let's get ready for another amazing year!
There is more, of course, but that is what we are sharing over on Twitter!  Hope to see you there.
Reach out with questions or comments.
Have a great beginning of summer if you are in our neck of the woods.   And stay awesome!!
Carol