Book Study 
Boosting Achievement; Reaching Students with Interrupted or Minimal Education  By Carol Salva and Anna Matis.
Did you miss the global book study?  No worries!  You can use this information to launch your own study.
A few things to note:
I structured the study into 5 weeks.  Each Sunday,  I published questions for the week so you'll see the resources divided by the 5 sections of the book.
There are many questions each week.  Pick your favorites to answer!
I have also published a post for each week that contains the question and more learning about that week's section.
Questions from our original book study are here.  You may notice that the blog post can be read without the book or in addition to the book.  Questions are at the end of each post:
CLICK for the WEEK 1 BLOG POST with Questions & MORE WEEK ONE RESOURCES 
CLICK for the WEEK 2 BLOG POST with Questions &  MORE WEEK TWO RESOURCES
CLICK for the WEEK 3 BLOG POST with Questions & MORE WEEK THREE RESOURCES
CLICK for the WEEK 4 BLOG POST with Questions & MORE WEEK FOUR RESOURCES
CLICK for the WEEK 5 BLOG POST with Questions & MORE WEEK FIVE RESOURCES.
We recently finished Round 2 and so there are even more resources here: bit.ly/BAstudy17
Using Twitter for your  Book Study:
You can do your study online and I'm happy to contribute/interact.  Just tag me on Twitter @DrCarolSalva and use the #BoostingAchievement hashtag so others can see your responses.  You may want to tweet the questions with the hashtag so that they are seen by more folks who can add to the learning of your group.
I suggest the Twitter Chat format to the questions (1Q3 indicates Week 1, Question 3) and the format that works well when answering (1A3 indicates Week 1, Answer 3).  However, you may want to encourage participants to respond to the text with any reflections, insight, #Booksnaps or any other synthesis of the text they would like to share.   That is really all there is to this self-directed PD opportunity.
Like any twitter chat, you will be drawing off of the reflections and insights of peers and we make sure to include the #BoostingAchievement hashtag that others following along can see our comments.
If you are not on Twitter, consider Facebook, Flipgrid or Google Hangouts to collaborate.  You may also want to listen to podcasts and watch videos that are linked in the book and linked below.
This book was originally featured  as the 6.o version of the #ELLChat_BkClub.  The virtual book club was founded by Tan Huynh and Katie Toppel Ed.D and well worth following all year round. Big thanks to Katie & Tan for bringing us all together this way. Also, we have other opportunities to interact with one another as outlined below in Padlet, Videos and Podcasts.  Perhaps seeing some of those connections will inspire you to try some of these as well.
ORDERING BOOSTING ACHIEVEMENT
You can order this resource straight from the Seidlitz Education Website. 
Amazon also carries the book and there is a Kindle version under $10!   Canada orders should go through this Canada quote link so your book can be printed & shipped locally.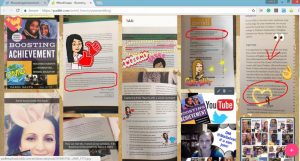 Emily Francis invites you to add to this: BOOSTING ACHIEVEMENT PADLET
And now Carlotta Holder invites us to respond via FlipGrid!
VIDEOS & PODCASTS
Don't have the book with QR codes, many Videos of my SIFE & Newcomer students here PODCASTS: Tan Huynh wrote the amazing forward. Tan is a leader in the ESL PD online community and many of us were astounded to learn that he and his family are refugees.  His older siblings began school with interrupted formal education. His story and his perspective create the perfect opening to a book which reveals what is possible for every child. I want to thank him again for his collaboration. We reflect on his forward in Week 1. You can hear him tell his story on the Rolland Chidiac Connects podcast: bit.ly/2stwg1z Carol was also interviewed by  Derek Rhodenizer on Beyond The Staffroom.  The podcast is a must-follow for education professionals wanting to stay at the forefront of innovation.  Derek is an administrator in Canada and one of the co-founders of #MADPD.  He read the book and you can listen to the interview here: bit.ly/2tMuKvv For more information about the #ELLChat_BkClub virtual book study, visit this page: bit.ly/BoostingAchBookStudy More on Boosting Achievement: Why should you read this book? Well, TESOL International is recommending it for summer reading.  And look what Larry Ferlazzo just tweeted about it:
I've just finished @MsSalvac 's book. If you have any ELL students in your class, you'll want to read it! https://t.co/7sfa7vVo68 Great job! pic.twitter.com/SkVrjreUCc

— Larry Ferlazzo (@Larryferlazzo) June 25, 2017
Larry is an Ed Week teacher advice columnist, he writes about ELLs for the NY Times and he is an urban high school teacher. These leaders in the ESL industry know what teachers need and so we are pleased to provide these resources.  Share with your colleagues because this book is becoming popular with ANY kind of teacher. It helps us see how our SIFE students can participate and thrive in ANY kind of classroom. You may also be interested in this post that explains the #ELLChat_BkClub Summer 2017 event in more detail.   
                So yes!  Please Join us!  We know that learning is powerful when we collaborate.  Anna Matis and I wrote the book and WE are learning so much as we interact with people about it!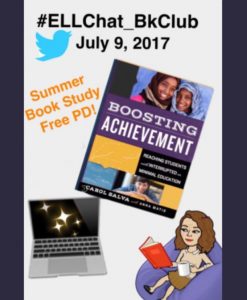 Thank you for your continued support!  Support of our book and support of ELLs and SIFE students!
Best, Carol