Do not despair!  If you are teaching an older student who may have low or no literacy in their native language, there are certain advantages that student has over a young child who is gaining literacy.
Today I am at the Long Island ESOL (#LIESOL) conference at Molloy College in New York. Thank you Andrea Honisgfeld  and colleagues for inviting me. I'm on the opening panel of the conference and also offering 2 breakout sessions for people who work with older learners.
You don't need to have the book but a lot of what I share is from Boosting Achievement, Reaching Students with Interrupted or Minimal Education. But ALL of those principles are in the free book study on this site.  Just read through the posts and you can get the learning without the book.
Today I will only have an hour and 15 minutes so I will be giving a quick overview of what is possible and participants will leave with the resources below. I'm going to start by trying to change the mindset of anyone who might think these students are not capable of learning quickly.
I'll do that by asking if the person is lacking literacy, were they also lacking easy access to technology for many of their formative years?  If so, they may have a cognitive advantage according to the work of Jane M. Healy and Nicholas Carr.  In Boosting Achievement I cite their research by pointing out the following:
In her book, "Endangered Minds: Why Children Don't Think And What We Can Do About It" Healy examines how television, video games, and other components of our culture negatively impact a child's ability to concentrate and to absorb and analyze information.  In Carr's book, "The Shallows" he provides a thoroughly researched examination of how the Internet is actually changing our brains and our neural pathways. He warns that technology has created a means of artificial memory, which seems to be hindering our cognitive abilities (Salva & Matis 2017). 
That is just one example of why we might want to raise our bar for students who are pre-literate.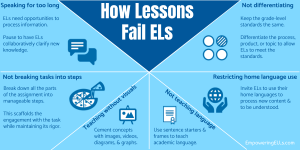 We need to realize what types of things fail our ELs (see this post with work from EL guru Tan Huynh) and that their inability to read is not a permanent condition. It is usually just a lack of opportunity and we need to provide more opportunities to gain English and gain literacy.
I recommend a pre-assessment that will give you an idea of how many sight words and one that is also a phonetic test.  I just googled and found many on PhonicsHero.com.  They have printables and assessment instructions like this one and I would be fine using these as long as it is the same type of assessment every few months to track progress.
Then I DO NOT primarily teach with alphabet or lists of words.  Instead, we learn in context.  I want these participants today to see how I train the students to "hack literacy."  Our students must understand that they will be able to independently decode text more and more easily as they gain the ability to sound out our letters and blends and also gain sight words.
Everyone must understand that high-frequency words come up frequently!  So we must co-create a lot of text and read with our students A LOT.  They also need materials they can read on their own and with support when they are not with us. For older students I will recommend NewsinLevels.com because it is FREE, it offers choice and scaffolds for the students. 
Please make sure your students pick a story and go through Level 1, 2 and 3.  ALL THREE LEVELS every time they read a story… even when they get more proficient.  These are super short news stories and the students will see the change of language structures from one level to the next.  Verbs change and there is a lot that can happen when students attend to these things.
With an older learner, we can capitalize on metacognitive awareness.
I will absolutely share this MUST READ post with these educators because they need to get proficient with QSSSA (to support structured conversations, offer wait time, honor voice, etc.) and with Language Experience Approach (to co-create text with students immediately.)
We will get a quick overview of balanced literacy but only to realize why we are doing what we are doing.  I'll focus more on QSSSA, W.I.T questioning and Language Experience Approach.
I'm also going to offer them the most important slide that I can think of for this type of PD.  If they challenge themselves to get these messages across to their students, they will be well on their way to success.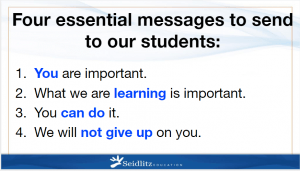 There are several videos on this blog that can be helpful to you if you're also working with this demographic and don't know where to start.  Check out the PODCAST page and click through those posts.  All have the pre-literate student in mind while I'm teaching a class of multi-level learners.
The most important thing is to raise your bar for the learner.  One of the biggest challenges they face it low expectations.
I am so grateful to be at Molloy College today at LIESOL. Please consider attending next year!
And please connect with me on Facebook or Twitter. I'd love to hear from you.
AND THANK YOU FOR TEACHING!!!
Hugs,
Carol
Hey! I hope I see you at one of these events
April 5, 2019 in Edmonton, Canada at Edmonton Regional Learning Center – Presenting 7 Steps to a Language Rich Interactive Classroom.  
May 9 & 10, Michigan Association of Bilingual Educators  (MABEMI) I'm a keynote and I have break out sessions
Awesome $129 rate for Rapid Literacy pre-conference May 8 through MABEMI.($99 if you go as a group!)
Andrea Honigsfeld will be the Keynote Speaker for #VirtuEL19! – Let's get some IRL watch parties together!