Huge numbers of teachers are struggling with mental health to different degrees.  This podcast addressed mental health of teachers and the stigma of mental health issues in the profession.  Dorina Ebuwa joined me for another call in show.
*Disclaimer: No one on this show is licensed to offer advice on mental health issues.  This show's focus is on how we are all coping with the stresses of the current pandemic and how we are growing our own emotional intelligence.
We take calls that have us discussing lack of engagement from students and how to help ELs when you can't be with them.
You can listen the show in two parts right here:
Part I
Listen to "BAP072 2nd BELIEVE Café LIVE with Dorina" on Spreaker.
Part II
Listen to "BAP072 Part II 2nd BELIEVE_Cafe LIVE (the rest of it)" on Spreaker.
In this episode, Dorina mentions:
And
Both are incredible folks to follow!
Big thanks to the folks who called in.  This week we had: Shaley Santiago, Michelle Van Balkom, Jody Nolf & Dr. Irina McGrathcall in with questions and insight.  We appreciate them and everyone who is listening.
If you are looking to UP your own social emotional intelligence, I can't recommend Dorina's #BELIEVE_Cafe series enough!  Take just a FEW minutes in the morning to grow how you respond to what is going on right now.  You'll thank me.  Here is her playlist so you can get caught up 
Here is more on what Dorina can do for you and your district:  https://www.thewritingrecipe.com/
We hope you are enjoying these LIVE shows!
Here are other places you can find me:
Free Kahoot for ELs webinar on May 6th!  Register here: https://kahoot.zoom.us/webinar/register/WN_rzI4WsZVQM67y4F2Q0Xb6g
Free Seidlitz Education Webinar on SLIFE.  This one is May 11th. Register here: https://seidlitzeducation.com/supporting-slife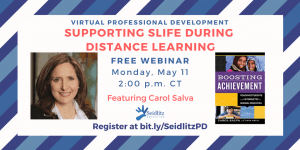 The above opportunities are free and this site has a TON of free resources for you.  But here comes the plug for online training or coaching in case you have a need for that.
I'd Love to Come and Work in Your District!
The Seidlitz Education team is really on a roll with our online trainings.  We are providing full day, half day and multi day sessions where we are modeling practical techniques for serving ELs that work in a face to face or online classroom. You can reach me at carolsalva1@gmail.com.  Here is some recent feedback:
Thank you to our clients who are able to continue working with us. We are honored to support them!  And thank you to YOU for your desire to self-direct your learning on behalf of your students.  We have plenty here on this site for you!  Reach out if you need something specific.
I'd love to hear from you!
HUGS!
Carol