SUBSCRIBE for updates & Contact Me for SIFE or ESL Trainings
GOOGLE PRESENTATION:
ELPS in ACTION – Changing Mindset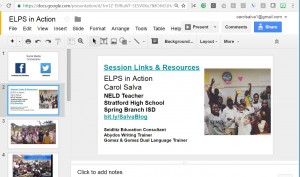 Carol's Kahoot on How We Acquire a 2nd Language – Great for your Prof Dev 
These are the questions in the Kahoot!
According to Marzano, __________________ can lead to a 19 point percentile gain in achievement.
There are ___________ language domains.
The productive domains are ___________________________.
For the biggest impact, the language load should be on the __________________.
Here is the video on what is possible for SIFE :
 Practical Tip: Inspire Students and Teachers!
How fast can a person acquire L2??
Gerson Video 7 Months in US Schools
Practical Tip: Create Mentor Texts the Newcomer can read!
Newcomers recently watched Gerson's video and then we did a shared quick write:
What about your shy kids?  Unschooled/no native language literacy?
Nabil Learns to Read/Choral Reading for SIFE
Nabil five months later: Refugee Essays and Nabil's Reading Update
Other Resources:
Kahoot! (for Teacher to create Kahoots)
Kahoot Planning Pages (dropbox)
Other Kahoot Plannning and PD resources
4th period Selfie Kahoot Fall 2016
6th period Selfie Kahoot Fall 2016