Present a 2-hour PD session with no projector?  Yep! That's how we roll sometimes at the Abydos Conference.  Our founder, Dr. Joyce Carroll ("Dr. Jac" as she likes to be called) encourages us to offer interactive sessions that don't require reading from a powerpoint.
I am honored to be a spotlight speaker at the event and I take that responsibility seriously. Here's the session I'll be giving:
Newcomers Thriving in ELAR Classrooms
We are trained to cite all sources while delivering our sessions.  The learning I'm sharing comes from five texts that I will share through this post.  The first is Acts of Teaching III by Joyce Armstrong Carroll and Edward E. Wilson. This book is a bible for anyone teaching writing.  I am confident that my pre-literate students can participate in the writing process because of what I have learned from this book and the Abydos Institute.  Teachers trained with this text understand that writing is a process and we will spend just a few minutes reflecting on this.
Objectives
I'll then move into our content and language objectives.  I'm going to have them posted.  Posting our objectives, and reviewing them with our students, can be an opportunity to use a vocabulary strategy that is tied to our content objective.  (Step 5 of Seidlitz Seven Steps to a Language Rich Interactive Classroom) 
I plan to start with a strategy I learned from Dr. Lora Beth Escalante. In her book, Motivating ELLs, she has great ideas of things we can do with our objectives that can support all learners. 
To set up this activity, I will have several of the key vocabulary words written in a different color.  I will:
Ask students (participants) to choose a word they feel they can define or explain to someone else.
Write that word on an index card or post-it note
Pair up with another person and explain their word
Trade words and find a partner again and explain their new word.
Trade again and so on.
We will use a Kagan strategy called Stand Up, Hands Up, Pair Up and we will repeat that process a few times so they have conversations about the words with several people.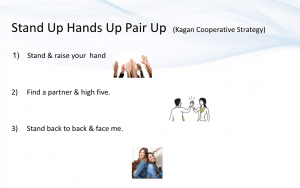 When the group is back together, I will ask for volunteers to explain the vocabulary.  When we do this with students, we can get a formative assessment of what words the students already know and also an assessment from what words were not picked by anyone.  We can explain those word meanings now and clear up misconceptions.
Participants will have a chance to reflect on why this activity is good for all students.
More Work on Objectives
At this point, we will chorally read the objectives.  I'll model the language first, and then ask the participants to read it with me as I track the print. (Boosting Achievement)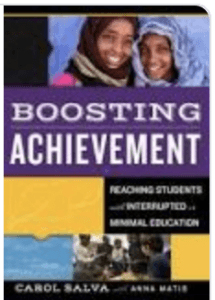 Dr. Escalante has a section in her book about annotating your objectives, we will do that if I have the time or I may just use the QSSSA questioning strategy (Seidlitz 7 Steps) to ask students to think about the meaning of the content objective.  I'll ask for a signal when they think they can rephrase the content goal to a shoulder partner.  This is when you see participants squinting and really thinking.  Afterward, I will ask them to reflect on that simple tweak to how we review objectives.  Did they have to think and analyze when I asked then to rephrase something?  YES!  Rephrasing is different from just receiving information. Reading is thinking.  We need kids to have more opportunities to process what they are reading.
Another reflection:  Would the Newcomer or SLIFE student be able to participate in the activities so far? They can! And we need to remember that a language learner understands more English every day.
Your language learners will make more and more attempts at speaking when they have low-stress opportunities to do so.  What would the classroom environment look like for your ELs to feel comfortable?
Setting Up Classroom Routines
This is a great opportunity to discuss some of the ways we work to empower all students and to make them feel safe in our classrooms.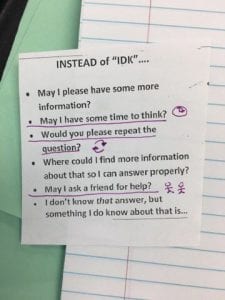 One of my top tips for that is banishing "I Don't Know" by offering students alternatives to IDK. (Seidlitz 7 Steps)  I'll have a poster in the room but you might also like to have this printable version of pocket-sized IDK poster (created by Emily Peters of Spring Branch ISD) These can get taped to desks or into an agenda.  I'll invite participants to use the poster whenever I call on them if they are not ready with an answer.
Reading with Newcomers in the ELAR
I have to start with a quick Language Experience Approach so I can model how we can use shared writing effectively in upper grades with grade level content.  I will use the topic of this morning at the conference as that is a shared experience.   I'm going to use QSSSA & Language Experience Approach just as I do in this post & video. 
I want to be sure we all make the connection to Balanced Literacy and the I Do, We Do, You Do approach to reading and writing.  Once we all see that, it will make more sense when I model other ways to co-create text later in this session. I will also explain some of what I do to help students understand how quickly they can gain sight words.  We need to counsel newcomers on how a person gains literacy.  We want them to attend to print with us and realize that they are gaining sight words every time we read together.  They get some phonetics this way as well.
TALK READ TALK WRITE by Nancy Motley
I'll then launch into a TRTW.
TALK #1: Consider this statement:  The city was devastated during Hurricane Harvey. But during these dark hours, the people of Houston realized what they were made of.  What does that make you think of?   I'll do this with a QSSSA.  "This makes me think…"
READ We will read this excerpt from Boosting Achievement on Grit using the Highlight Plus technique Motely offers in her book.  That technique involves asking the reader to look for something and highlight one or two sentences, annotate and be ready to share why they chose that sentence. I'm going to ask them to find a sentence that resonates with them.
TALK #2: We will share with the frame:  This sentence was meaningful to me because…
WRITE: 1 minute quick write on how this applies to our students who have lived through difficult experiences.
We will then reflect on why this strategy (TRTW) and the Highlight Plus strategy makes comprehension easier for students.  (Difficult text can be more comprehensible when you are looking for something.  Also, our SLIFE and newcomers can find a sentence that is easier for them or I can support them to find a sentence while everyone is reading.)
To learn more about the Talk, Read, Talk, Write approach, you can watch this video by Nancy Motely.  It is a great overview.
PREWRITING
Prewriting for Opinion/Persuasive Writing
I am going to do this one because it is so important for the ELAR teacher to have practical things to prepare students for writing that will set them up for Argument, Opinion and Persuasive writing,
We will start to expose students to this type of writing with T-Chart, Pair, Defend (Seidlitz 7 Steps)
If you tuned in to last week's podcast, you saw a lot of this already.  In Episode 51 of the Boosting Achievement ESL podcast,I spent an hour talking about why and how to include emergent writers in this type of writing. I have lots of downloads in the show notes at that link.
In this activity, I will offer the class a statement and ask that they take a side.  They should move to the side of the room they agree with.  I'm going to go with something abstract because that is how our students are tested.  But I usually begin the year with topics that are more concrete and then work up to this.
Once they have taken a side, I will create the T-chart on the board.
It should have sentence frames that we will practice together orally.
Then in pairs, they will come up with their best argument from their opinion.  Those pairs will then gather into groups of four and then six.  I want them to decide on the best arguments.  They are playing "lawyer" and I'm the judge.
We will then get arguments from both sides and I will scribe these in a T-Chart similar to this.

Pair & Defend
Now we are on to the last part of T-Chart/Pair/Defend.  They pair up to debate with a partner using complete sentences.  Up to this point, I have been allowing native language so that all students can participate in using whatever language they have to consider the argument.  But now I want to be sure to meet my language objective, so I'm asking all students to use complete sentences and use respectful language such as the sentence stems and frames I have included on the board.
If we have time, we will end with a shared writing where I will model how to use this brainstorm to pick one side and write a rough draft of a persuasive essay.  I will share with participants that with my students, I would use the graphic organizers and planning pages from Episode 51.
I hope to come full circle and show them that we can do the writing as a shared writing and we are still hitting the standards with my newcomers and SLIFE.  Of course, if your students can do this independently, they could do the writing on their own.  Some students may do shared writing with a buddy.  And some of your higher need students may write a rough draft with you scribing for them or using technology to help them get their ideas down.
Then they are in the writing process!
I'd love to end the session reflecting like this if there is time:
Pretend there are NO English learners in the room. Was this lesson supportive to the native speakers?  How?
Consider the students who don't write in English but they can write in their native language. Could they participate?
Could the student who is SLIFE participate?  What was supportive for this child to participate while they gain literacy?
Use language like:
This technique would benefit ___________ because ______________.
Hope this is stuff you can use!
Reach out – I'd love to hear from you.
Carol