Our friend Tan Huyhn from EmpoweringELLs.com is going to join me for an hour of LIVE radio this Saturday, Jan 18, 2020. Tune in at 6:30pm-7:30pm ET to hear the show.
To listen to the show, download the VoicEd Radio App or just visit www.voiced.ca and click on the LIVE Stream.
We invite you to submit a question to us here (that can be anonymous) or tag us on Twitter.  To connect with us on Twitter, you can find Tan here or find me here.
You can also connect with us during the show by using the #BoostingAchievement hashtag.
Or just listen to some LIVE radio about supporting English Learners.  But be prepared…Anything can happen in LIVE radio! Thanks to everyone listening!!
Other Resources For Early January
Kamal's Video
I can't think of a better time to watch this 2 minute video with ANY class but especially a class with language learners.
You might find the podcast show on this helpful or the post about it here.  This student came to the US in 8th grade with no formal education and no native language literacy. He is not in a special newcomer school.
He came from difficult circumstances.  He faced many challenges.  Fast-forward a few years and he is not only passing multiple state assessments, he is graduating this year!   His words inspire us and can launch us into great discussions about mindset!
Easy to do, Powerful MLK to Valentine's Day Lessons
Martin Luther King Day is Jan 20th!  In keeping with that theme, here is a look back to an MLK unit of study we did 2 years ago.  It leads right up to Valentine's Day with Kindness lessons.
There are many low prep resources in this post to help you teach who Dr. King was and why he was so significant to our world.

The unit was inspired by Emily Francis who told our class that US History was an area of difficulty for her as a recent immigrant in High School.
(Emily is now one of the top ESL teachers to follow in the country & our students benefit from knowing about her!)  The lessons in this post use resources from Larry Ferlazzo, Nancy Motley, Valentina Gonzalez and Kahoot. It was improved upon last year with some Flipgrid additions I received from Jess Bell. 
The post explains how we start with lessons on who Dr. King was (with resources that work well with newcomers), and we move toward a lesson on kindness (just in time for Valentine's Day!).  A big win is that it offers opportunities for them to make connections to themselves and what they want for their country.  Please check it out!
Free Learning Opportunities
VirtuEL
VirtuEL19, #VirtuEL18 & VirtuEL17 are still available! They are worth a revisit! This online conference is COMPLETELY FREE with no registration and now has three years of conference sessions for you to watch on demand.
Heavy hitters in the field present YouTube sessions on a variety of topics related to teachers of multilingual learners.  Check out all three years worth of PD here!
The Boosting Achievement ESL Podcast
If you are looking for free, self directed PD for teachers of ELs, I'd love for you to consider the podcast page of this blog.  The video page also has some great things for reflection and also to use in your own PD.
The Padlets
For Newcomers specifically, don't forget about the padlets we have available for you!
These are from different PD sessions I give and you'll find so many free resources to use with Emergent ELs.  Everything from mindset to classroom management to fundamentals of reading.
Best Resources for Serving Newcomers by Larry Ferlazzo
Many of us are following Larry Ferlazzo for his great resources!  Personally, I subscribe to his blog and check it each morning.  There is SO MUCH out on the web and in the field that it can be overwhelming. Larry is my filter for all things ELL and I highly recommend you follow him if you teach any language learners.  A few weeks back, Larry published this post on the best resources to help teachers of Newcomers.  There are a ton of free resources for us!
The Book Study, With or Without the book!
Whether you own a copy of Boosting Achievement or not, you can take advantage of the entire, free book study right here.
This 5 week PD opportunity was designed to be accessible to people who are unable to get a copy of the book.  You can simply click on each week and read the free blog post and additional materials that are available for each week.  Folks who are reading the book love the extra content and those that don't have the book can reflect on the questions using the posts that are available for each week.  Check it all out here. 
Where We Can Connect IRL
Please connect with me on Facebook or Twitter, I'd love to learn from you and with you!  Our PLN is really powerful and always available.  But if you can get to one of the following places IRL (in real life), I'd love to see you!  Here are a few places where I will be giving Keynotes or featured sessions in the Spring of 2020:
March in Oregon
March 11, 2020 for an Effective Questioning pre-conference & March 12, 2020 as the keynote for the Confederation of Oregon School Administrators.
April in Irving, Texas
Keynote presentation at the 36th Annual Bilingual Education Association of the Metroplex Symposium! April 4, 2020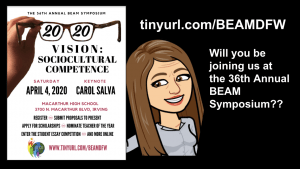 May in Michigan
May 13, 2020 for a Using Technology with ELLs pre-conference and May 14, 2020 for featured sessions in Michigan for MABEMI20:
PD in Your District
If you are looking for meaningful, high-impact PD for your staff, I would love to come and work with you and your colleagues.  I work in the US and Canada offering PD along with free ways to extend the learning. I can offer you rave reviews from the school, district, regional and state level.  Just reach out to me at carolsalva1@gmail.com for more details!
Please reach out with any questions!
Thanks for stopping by!
Carol