Passionate, excited educators come together in a Google Hangout to talk about the biggest take-aways from this round of the #BoostingAchievement book study.
I've turned it into this week's podcast so you can listen to the audio right here:

Even if you've never read the book, you'll still benefit from listening to the ideas and perspectives from people in different countries, grade levels and a positions in education.
We have different educational roles but we share a common bond. We teach or support students with significant gaps in formal education and target language.
We also share a strong belief that every child can achieve their dreams in our schools and in our classrooms.  We are shifting the way we are thinking.  We are not just paying lip service to the idea, we are truly educating the whole child.   While reading the book, and trying and sharing different techniques, we are finding that we can can serve these learners with excellence and deepen the learning of the whole class with the strategies that we use.
Thank you to Allyson who captured this chat stream that was going on behind the scenes:
In the show you'll hear some of these references:
Katie's class is reading Champion's Game by Saul Ramirez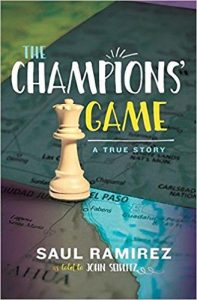 You can find me at the following events in the near future:
Region 4 Bil/ESL Conference: My students will have a session and Q&A panel for teachers.
What's Working in Texas Conference on January 25th.
NABE March 1st – 3rd, 2018.  National Association of Bilingual Educators. I'll have a Kahoot Poster Session
5 Keys to Using Tech for ELLs on March 21 in Houston – I will present this conference with John Seidlitz
Abydos Writing Conference:  April 12-15 I will have a special session
Also! The proposal window is open for these conferences. Many of us are going to submit a proposal! Join us:
Thanks for checking out this post and show. Keep learning and sharing so we can learn from you too.
Hugs,
Carol